Women from the School of Information at Florida State University brought home accolades from the Association for Library and Information Science Education (ALISE) conference this weekend.
Many iSchool faculty, students and alumni attended the conference in Atlanta, Ga. ALISE focuses on Library Information Studies educators and researchers. Florida's iSchool is ranked as the #13 Best Grad School program for Library and Information Studies.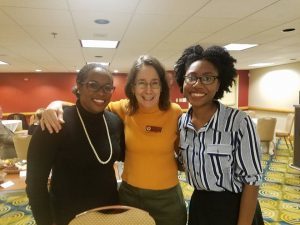 Doctoral student Ana Ndumu received the 2017 Doctoral Students to ALISE Travel Award. Alumna Min Sook Park won 3rd place and alumna Lynnsey Weissenberger took 2nd place at the Jean Tague-Sutcliffe Doctoral Research Poster Award Competition. Alumna Mega Subramaniam was awarded the Pratt-Severn Faculty Innovation Award.
iSchool director Lorri Mon was in attendance and shared, "FSU School of Information's doctoral students have been building a strong tradition of excellence in research and as key participants in the ALISE doctoral research poster competition. We're very proud of all our doctoral student and alumni participants at ALISE!"
iSchool alumni Laura Clark and Lenese Colson also attended the conference and presented posters in the Doctoral Research Poster competition. iSchool faculty member Dr. Don Latham served as the co-convener for the Innovative Pedagogies Special Interest Group.
For more on the School of Information and their Master of Information program, visit their website.