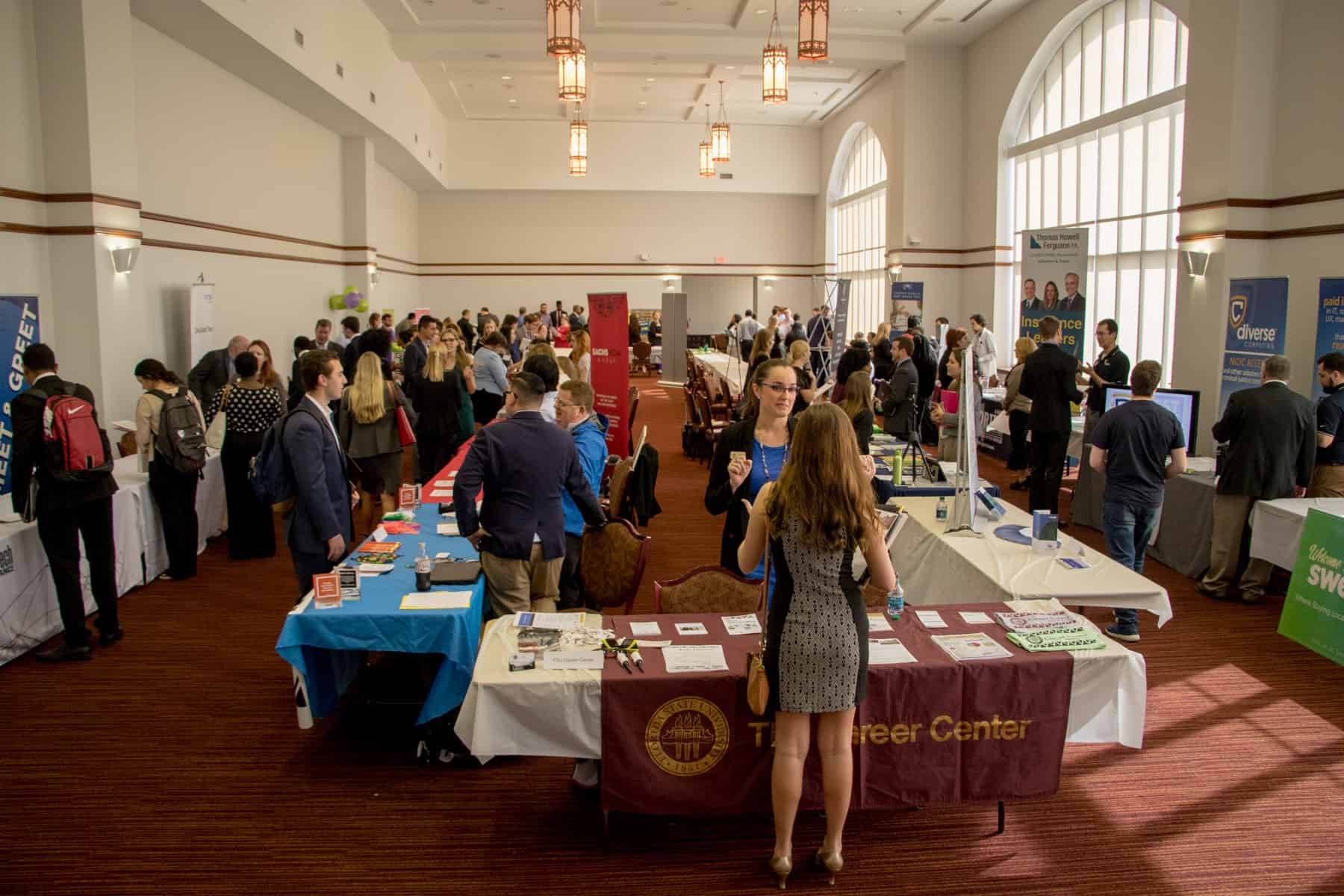 The spring semester career fair at the College of Communication and Information held on Tuesday, February 6th, featured over 40 employers from local communication and technology sectors.  Held two weeks after the University's career fair (Seminole Futures), the focus is on serving local employers that provide internships and employment for our majors in the School of Communication (advertising, media communication, digital media production, PR) and in the iSchool (information technology, and ICT).  A unique feature of this fair is that more than two thirds of the recruiters at the event were alumni of the College, returning to campus to interview and meet with the next generation of talent.
CCI alumna Shelby Hobbs, a Senior Account Executive at Sachs Media Group, earned her B.S. ('14) and M.S. ('16) in Communication and Media Studies with a concentration in Political Communication. She attended the career fair to recruit interns for the upcoming Summer and Fall semesters. "Our company is always impressed by the high caliber of students that we meet at the FSU College of Communication and Information's career fair," said Shelby. "This year is no different. We were excited to get to meet with another group of rising professionals."
Throughout the year, the University's Career Center supports students through a variety of programs and resources.  CCI's dedicated Career Liaison, Kate Herron, provides a number of class visits, workshops, and one-on-one mentoring to help students prepare for their time with recruiters.
Kate said, "I am always so proud to represent the Career Center at the CCI Career and Internship Fair!  Many of the attendees were familiar faces who had visited me in the weeks leading up to the fair to perfect their resumes and elevator speeches.  This is what they were preparing for and it's always neat to see their efforts come to fruition."
Brian Pearson, a senior Information, Communication, and Technology student, spoke with a variety of companies at the event. He said, "The CCI Career Fair was a compact and efficient setting for students to meet prospective employers. I felt the intimate CCI Career Fair was a more relaxed environment than other career events, allowing room for easy conversation."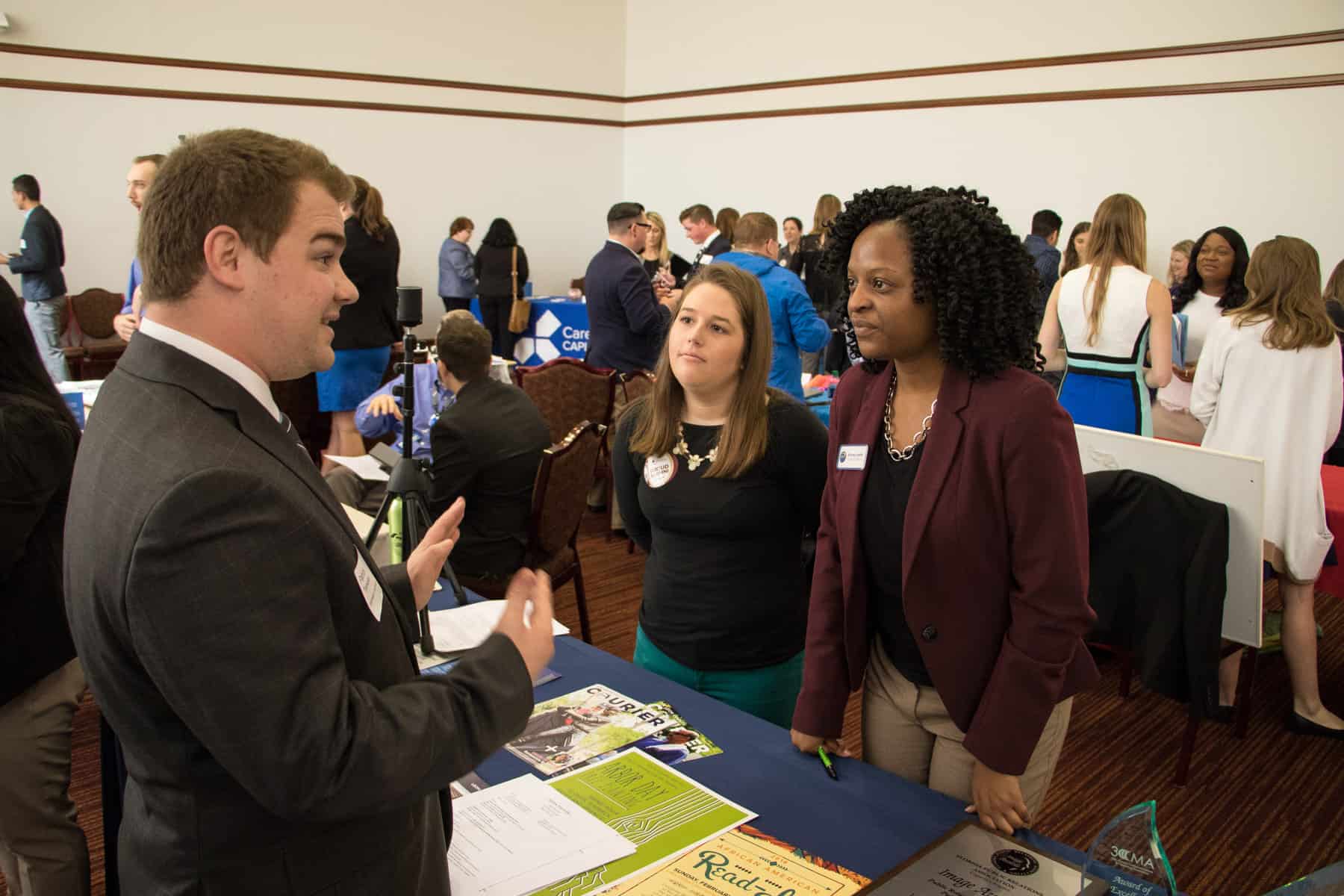 Companies who participated in the fair included:
Alachua County Board of County Commissioners
BowStern
feature[23]

The Florida Lottery
Florida Court Clerks & Comptrollers
Florida Department of Environmental Protection
Florida State University Dalton Agency
King Arthur's Tools
FSU Career Center 
Florida Department of Highway Safety & Motor Vehicles
NTT DATA
Focal-Point Data Risk
CSX Technology
The Children's Campaign
Marquis Software Development
WJXT/WCWJ Graham Media Group
North Public Relations
The Pod Advertising
Proper Channel
RB Oppenheim Associates
Sachs Media Group

Shop Tally with Swellcoin
TalTech Alliance
Tallahasee Memorial Healthcare
VISIT FLORIDA
CareerSource Capital Region
Diverse Computing, Inc.
Fiore Communications
Leon County Government 
Syntech
PATLive
Reliant Solutions
TEGNA Media/First Coast News/WTSP TV
TEKsystems 
Thomas Howell Ferguson P.A. CPAs
VR Systems, Inc.
WTXL ABC 27
THE ZIMMERMAN AGENCY