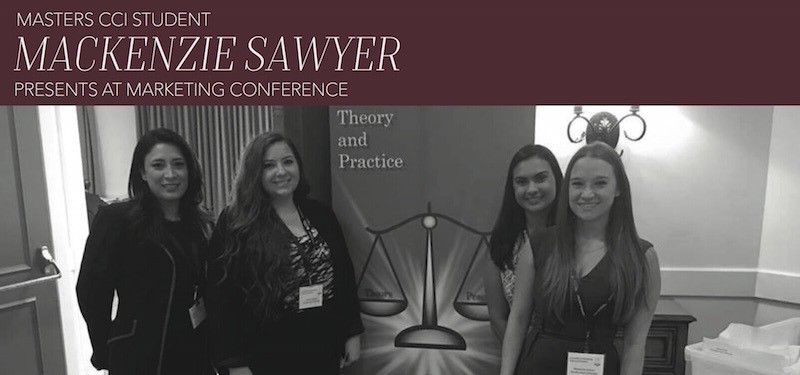 The Association of Marketing Theory and Practice (AMTP) recently hosted its 25th annual conference at St. Simons Island, Ga. Every year, AMTP unites academic marketing scholars from around the world to bring together both academic theory and real world marketing practices at this conference. Several students from FSU's College of Communication & Information attended, including Mackenzie Sawyer, Laicelis Haro and Summer Shelton. Assistant professor Dr. Sindy Chapa from the School of Communication and professor Dr. Ron Goldsmith from the College of Business also attended.
The students spoke on a wide variety of research. Sawyer presented her research about advertising and the LGBT community, which she's been conducting for the past year. The study started out as a class project, but her interest in the topic was sparked and she decided to continue her research through a DIS with Dr. Chapa. Her original focus was about how to target the LGBT community through advertising without alienating mainstream consumers, and she found that there are many ways to do this. However, as support of the LGBT community has evolved, so has Sawyer's research. She is now working on an in-depth analysis of how personal factors of heterosexual individuals influence their attitudes towards the LGBT community and LGBT-centered advertising.
Sawyer shares, "My favorite part about attending the conference was the way the discussion took place after each presentation. While other conferences might be focused on pointing out the flaws in your research, the AMTP conference was focused on critiques that would help improve future research and start a discussion about the process. I found the whole process to be very thought-provoking and engaging."
Conversely, Haro's research looked at how consumers engage in electronic word of mouth (eWOM). She analyzed tweets to assess whether they were more likely to be positive or negative when taking into account the gender of the Twitter user and the time of day that the tweet was sent out. The research will be beneficial to brands and companies seeking to launch new products or services using social media as a promotional avenue.
"The AMTP conference offered me the unique opportunity to present outside of the classroom," Haro explains. "As a graduate student, I am consistently seeking feedback that will better my work and myself."
Shelton's research focused on tracking the shift among millennial consumers from traditional cable or satellite television subscriptions to online forms of television viewing like Netflix and Hulu. She found that Millennial consumers do in fact prefer these online forms and that they are switching to them. Her research will help companies decide where they should spend their advertising dollars in order to reach millennials with their content.
She shares, "My favorite parts of the AMTP conference were having the ability to network with other researchers in the communication research field and hearing about different research being conducted around the country. It was also just great to receive my first conference experience in a more laid back environment and receive constructive and positive feedback about my own research."
To learn more about the AMTP conference, follow this link.