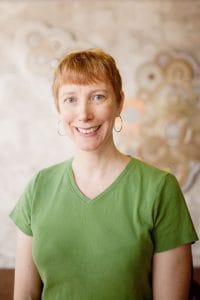 Once a year, researchers and experts in the field of informational studies from around the world gather to share ideas, concepts, and concerns at iConference. This year, our very own iSchool Professor, Michelle Kazmer, was announced as a finalist for the "Best Poster" award. Kazmer's presentation was titled Perceptions and Experiences of Qualitative Open Data (PEQOD): Exploratory Pilot, and is one of only five in the running for the award. It is no surprise that Kazmer got involved with iConference, a gathering of individuals dedicated to the growth of the information field.  The winner will be announced on the second day of poster presentations, Tuesday, March 27.
Kazmer, a Professor at Florida State since 2002, focuses her research in the distribution of information. She is interested in the processes of distributing, creating, and maintaining knowledge. Though she teaches at the School of Information, Kazmer also collaborates with the College of Medicine, conducting research on cognitive behavioral skill building in African America care-takers. Kazmer is passionate about bringing undergraduate students into research for them to better understand the co-creation of knowledge. Professor Kazmer is also featured on our Faculty of the Future website and can be found here.
About the iConference
The Conference is an annual gathering that brings together scholars and researchers from around the world to examine critical information issues in contemporary society. The 2018 theme is Transforming Digital Worlds. iConference 2018 is co-organized by University of Sheffield's Information School and the iSchool at Northumbria, and is presented by iSchools Inc.