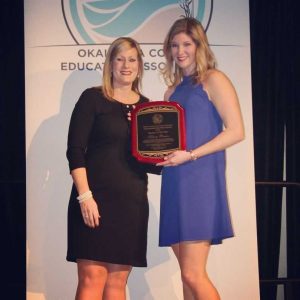 Hilary Brown received her Bachelor's of Arts in Communications, with a focus in Media Productions here in 2007. During her time at FSU, she worked with Seminole Productions reporting, producing, and editing live events for Basketball, Soccer, Baseball, and Volleyball. Since then, she has been sharing her knowledge in television production, social media, digital design, and more with students as a teacher at Choctawhatchee High School, her alma mater. Brown was recently named Teacher of the Year due to her dedication to her students in the classroom and beyond. Though she teaches a multitude of classes, she still finds time to be the school's Social Media Manager, IT Department Chair, and provide unique experiences for her students such as giving them the chance to produce television for school-related and county-wide events.To learn more about Hilary, continue reading her answers to our personal Q&A.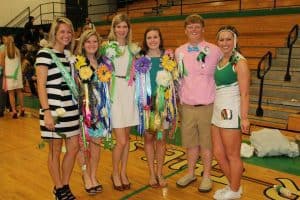 What is your job position and company?
Teacher, Okaloosa County School District
What is your favorite office snack?
Almonds or crunchy peanut butter
What Jeopardy category could you clear no problem?
Social media
Best account to follow on social media?
@hilz_yeah_ on Instagram
Who do you admire and why?
This depends on the subject! Overall, I'd say Robin Roberts. She always has a positive attitude and outlook and has worked hard to get where she is in life and career.
Where do you look for inspiration?
Everywhere
What is the best piece of advice you've ever received?
Don't stress about things you have no control over.
How did your education prepare you for your career?
So much of what I learned at FSU prepared me to teach the subjects I teach. I use the experiences I received at FSU as inspiration for opportunities I provide for my students. Streaming events live and producing content for a projector we have mounted in the Gym that we use like a "Jumbotron" are a couple of great examples. My instructors, Jim Shaw and Mark Rodin in particular, have been great resources and continue to help me if I have questions today!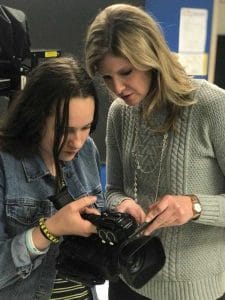 How has working in your industry changed the way you look at the world?
Teaching is not for everyone! Some people retire from their jobs and think teaching is a great job for them, then they run screaming in the other direction. We do work for a teaching salary that would pay double or triple if we were working in the industry we are teaching about. I get to help High School students become adults. I teach them skills they don't think they will need but come back and say "I'm so glad you taught us that because I used it in college/my internship/ my job". I get to help them figure out what they want to do in life, and I get to be there for them when they feel like the world is against them. I love that I get to do production work but make a huge difference doing it. Every day is different and I love the challenge.
Share a notable experience you've had at work.
I would say the most notable relating to me so far is being named Teacher of the Year. We have so many excellent educators at Choctaw, it is an honor to have been chosen by my peers to represent my school!
How do you handle work-life balance?
It is difficult to have a work-life balance as a teacher, especially as a teacher that does so much "extra stuff" like I do. I make myself leave at 2:15 so I get my gym time in. I make sure to schedule things with friends in advance. All of this means I have to mutli-task at work which means my hair is on fire most of the time. I prefer to be busy though, the day goes by faster!
What advice would you give yourself in college?
I'd tell myself to eat healthier and work out more!
Contact Hilary