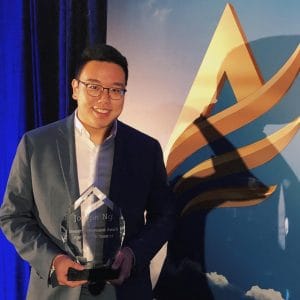 Joseph Ng, an Advertising student in the School of Communication, is the recipient of this year's American Advertising Federation (AAF) 4th District Diversity Achievement Award. "Although advertising is considered more progressive than other industries, there's still a lot of work to do, and I'm honored to be the first recipient of the Diversity Achievement Scholarship, awarded by the American Advertising Federation Fourth District," he says.
The AAF 4th District is one of 15 regional AAF districts, comprised of 18 local federations located throughout Florida and the Caribbean. AAF has several student programs and is committed to advising its college students through advising curriculum and job placement. The Diversity Achievement Award aims to "recognize agencies and individuals in the industry who have a commitment to diversity and work towards inclusion within the industry," says the website.
As an active member of the FSU community, Ng definitely aligns with this mission. He has participated in philanthropy events such as Dance marathon at FSU, as well as several extracurricular organizations pertaining to his field including the Arrowhead Advertising Team, the FSU Advertising Club, and Social Spear. On top of that, Ng works at the Center for Global Engagement as a graphic designer. Through his involvement on campus, Ng hopes to help the community around him continue to progress.
"Diversity and inclusion allows for the opportunity to usher in fresh outlooks and approaches from outside of the echo chamber and share stories the untold stories of the under- and misrepresented. As a first-generation college student and an Asian-American, my experiences at FSU, and especially on the Arrowhead Advertising Team, have shaped me and demonstrated to me the importance of diversity and collaboration firsthand," he says.