Florida State University's College of Communication & Information (CCI) recently hosted the 5th Annual Women in Leadership Conference on March 8th (International Women's Day) at the FSU Turnbull Conference Center.  With 425+ students, alumni and community members in attendance, the conference was co-sponsored by the College of Business, College of Social Work, and the Jim Moran School for Entrepreneurship, and was designed to celebrate the successful women who spoke under the theme of "Learn, Inspire, and Engage."  The goal was to hold workshops to Learn from presenters, create an opportunity to Inspire, and to Engage different voices through panels.

In creating a way to Learn, the early sessions were workshops covering:
Building Capacity for Diversity
Financial Literacy
Developing Leadership Skills
Negotiating Salary, Promotions, and Job Offers
Networking 101 – How to Build your Capacity to Grow
Building your Personal Brand
Confidence, Emotional Intelligence and Finding your Voice!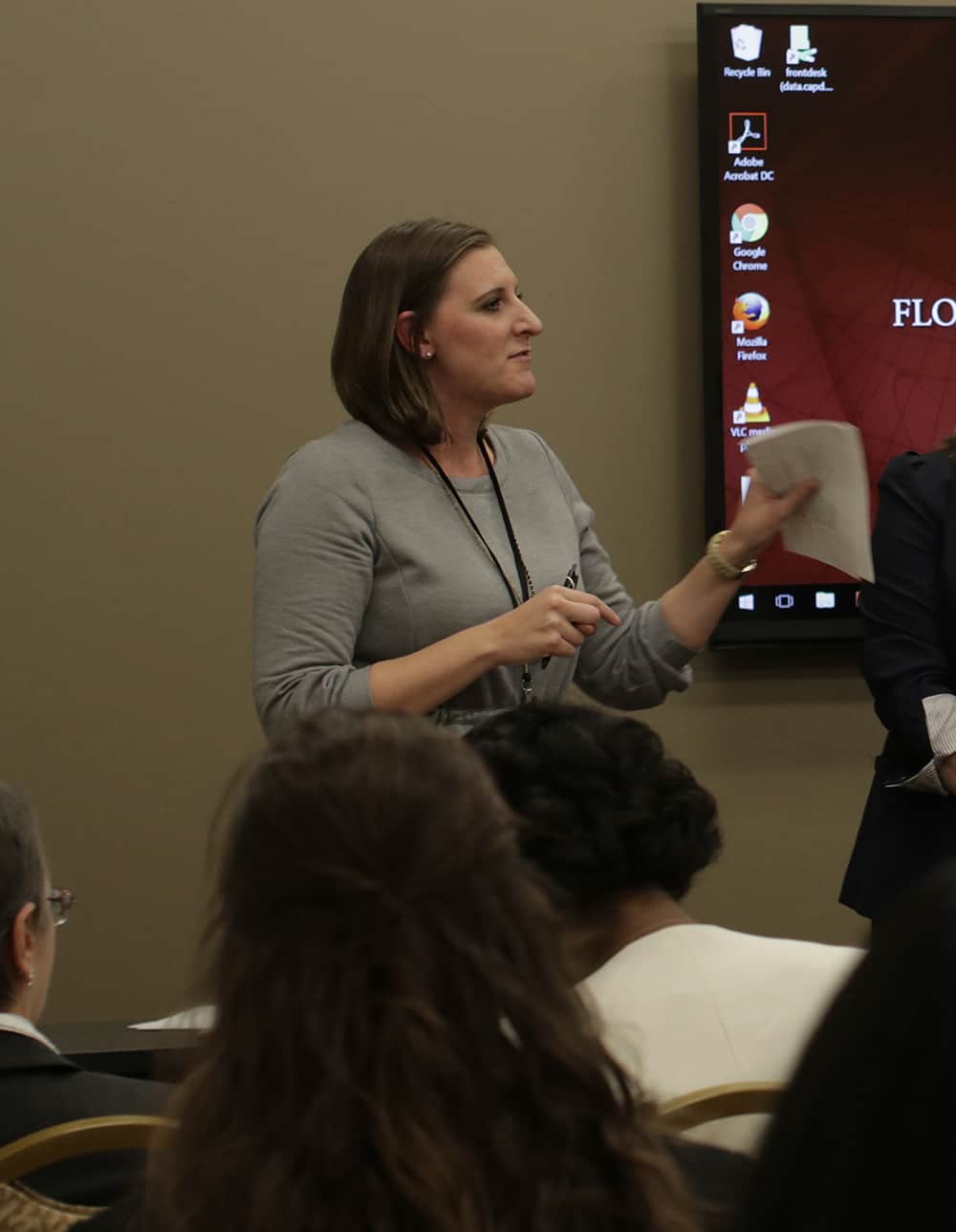 CCI Alumna Michelle Winokur, President of MW Consulting & Evaluation, led a workshop on "Negotiating Salary, Promotions, and Job Offers" (pictured on the left). According to her, "There is nothing quite like the Women in Leadership conference at FSU—students, alumni, faculty and community members coming together to educate and empower women of all ages, backgrounds and abilities to grow their leadership skills; synergy created by the hundreds of women and men who present and attend is incredible and I'm confident every participant learns something valuable from the annual WIL event."
The main panel selected to Inspire the audience included many women from various accomplished backgrounds:
Margaret Jennessee, President, Twin Branch Corp
Helena Sims, Director of Intergovernmental Relations, AGA
Susan Fiorito, Director, Jim Moran School of Entrepreneurship
Cheri Rowland, MSW, Licensed Clinical Social Worker
Nina Ashenafi Richardson, Leon County Judge
Kristin Dozier, Leon County Commissioner
Laura Osteen, Director, Florida State University Center for Leadership and Social Change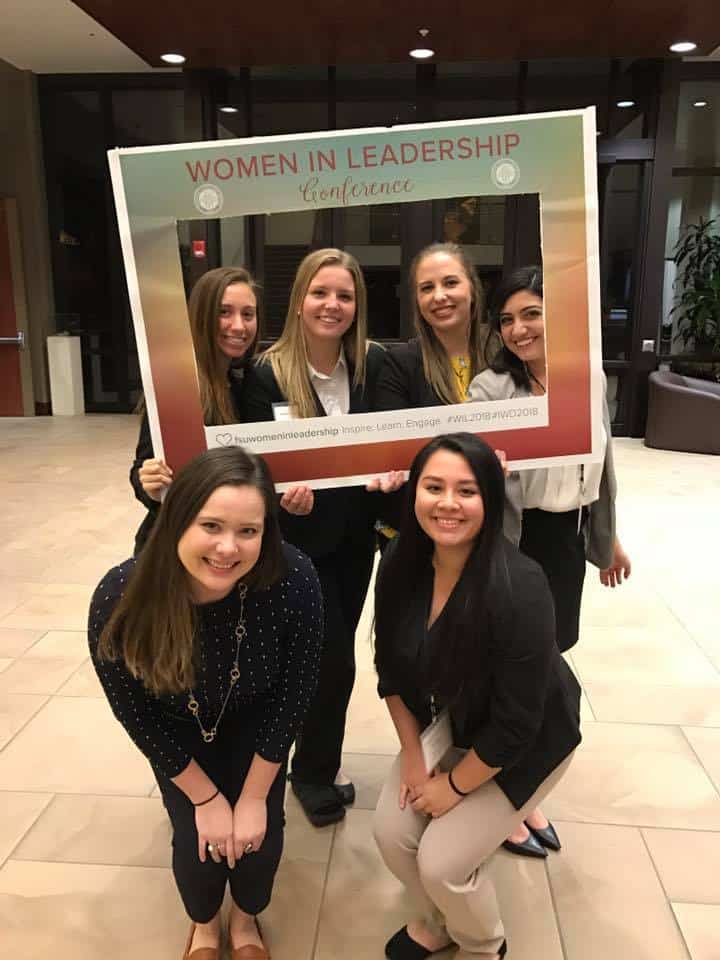 Allison Cannan was a student that was part of the planning committee for the event (pictured on the right, second from the right on top).  For her, its about the women who give back. She said, "What makes this conference impactful is the background of these amazing FSU women on the panels; these women were in our shoes just a few years ago. Seeing what they have accomplished and experienced serves as an inspiration of what each of us are capable of achieving."
The WISE (Women in IT/ICT Sharing Experiences) group was started in 2008 to encourage more women to join STEM careers and to help develop professional and mentoring opportunities for female students.  The group held student/mentor breakfasts for a few years that eventually become so popular that the meetings were attracting 30+ local mentors/alumni and 50-75 students.  That success led the College to use the WISE event to launch the Women in Leadership Conference.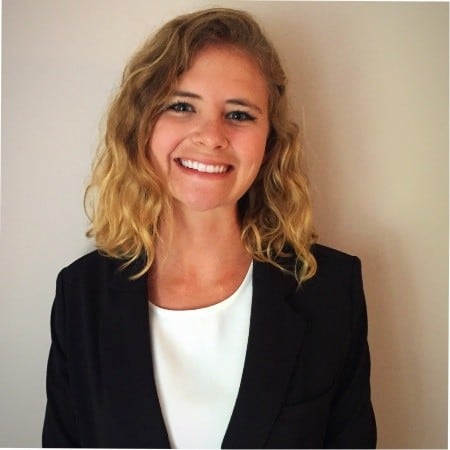 The current WISE president is Chemical Engineering senior Rachel Roberson (pictured to the right).  Rachel mentioned that the WISE group is open to all majors and that as a student, the conference was inspiring and motivating as we participate in conversations about developing women in leadership roles.  She said, "We are a part of the discussion on embracing who we are and how we can gracefully and fearlessly face adversity in the work place; I look forward to seeing the conference continue to grow as we gain support in empowering women across campus and in the Tallahassee Community."
This was the second time Judge Nina Ashenafi Richardson was on the main panel (pictured below, right).  She said, "It was a pleasure to be on the Leadership Panel and included with women I respect; I am also very appreciative of FSU College of Communication & Information's vision to organize such a dynamic event for the fifth year in a row. I attended a break-out session after my panel which was so enriching, while also making many new friends that I will add to my 'good 'ol girl network.'"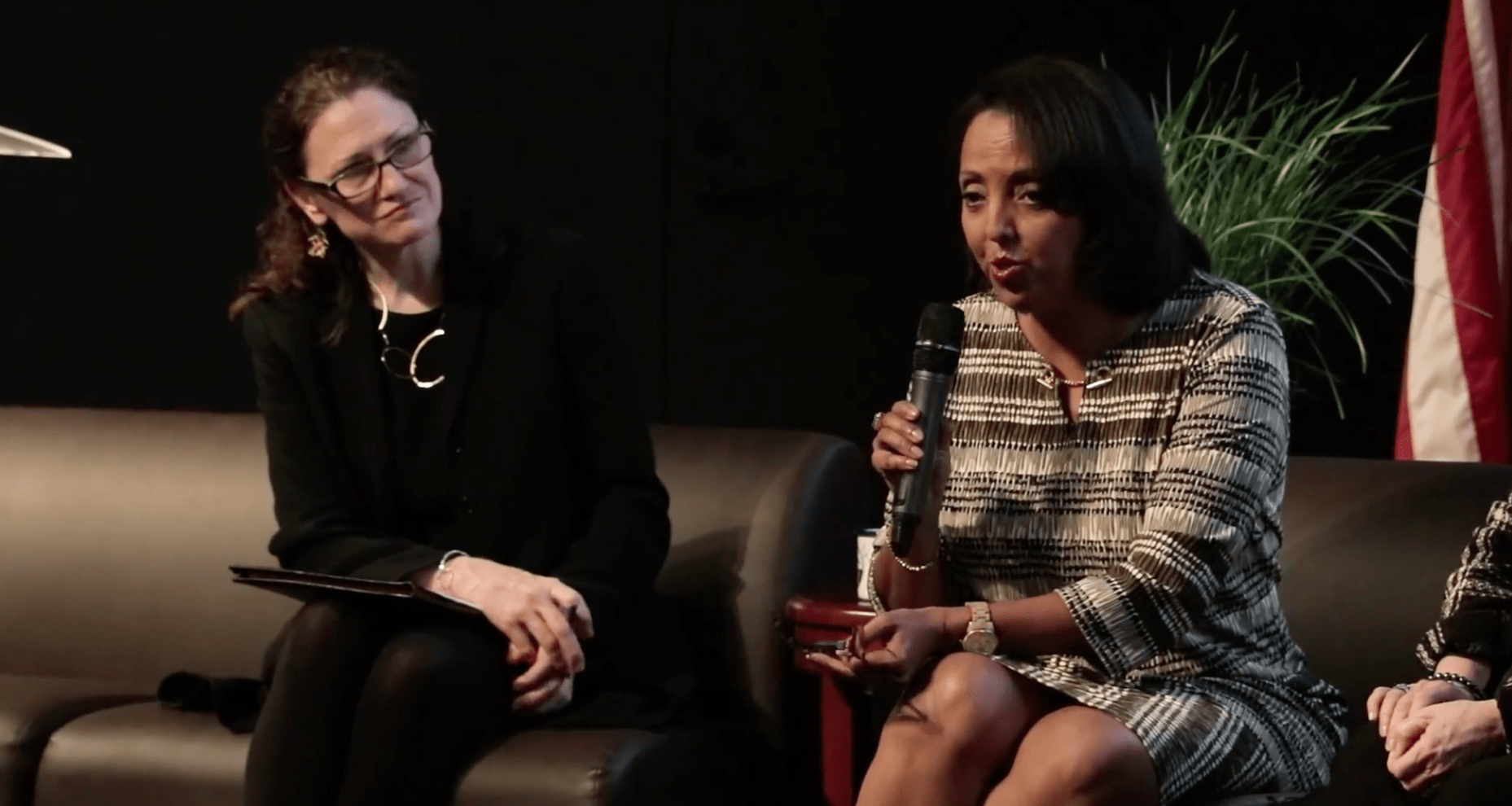 The final panels were opportunities to Engage in discussions and included topics such as:
Men as Partners
Starting your own Business
Leading Millennials
Developing Leadership Skills
Building a Network of Mentors & Allies
Work Life Balance & Personal Health
Engaging your Community (How to Get Involved)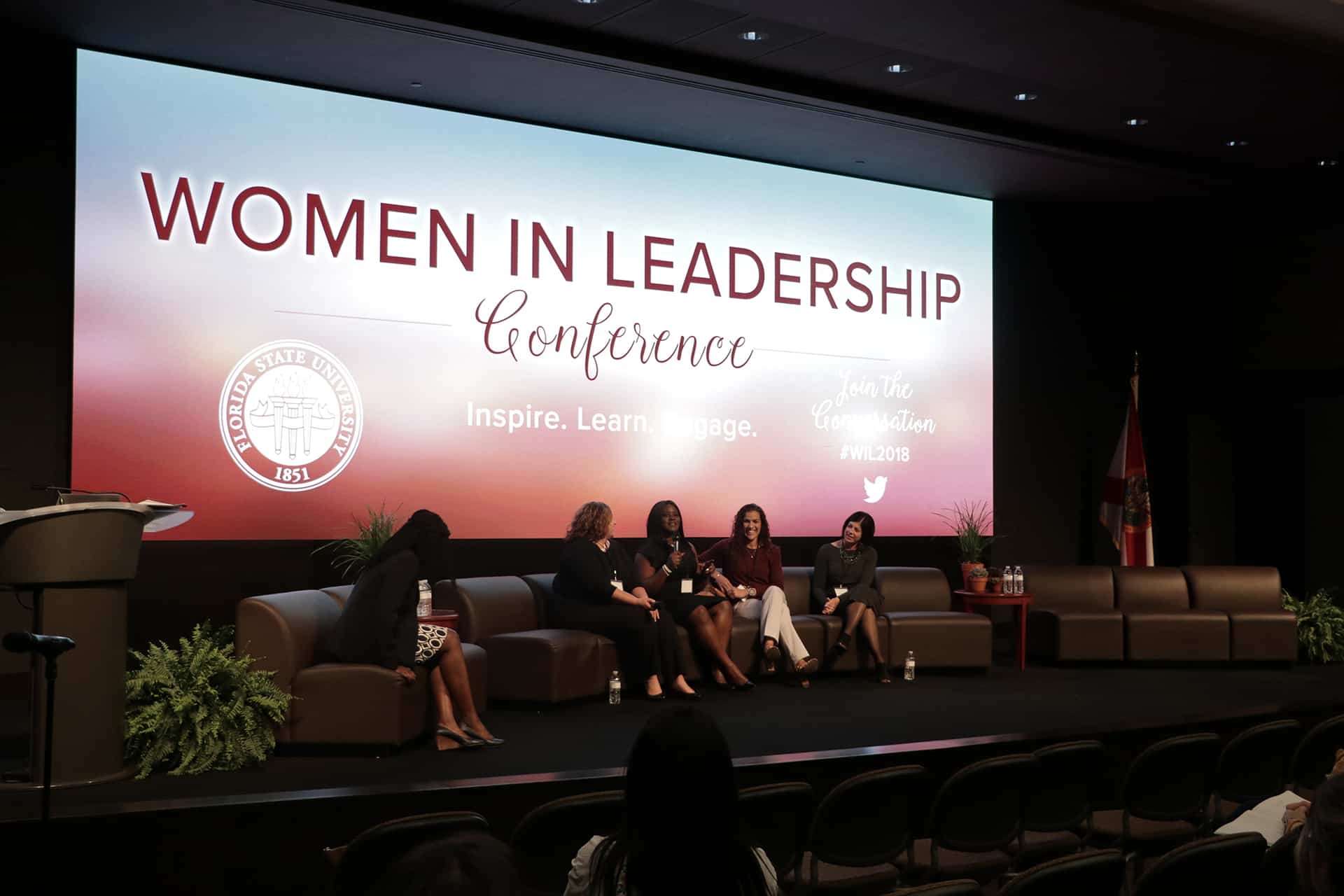 Panelist and CCI Alumna Shayla Perry is an Event/Project Manager that spoke on the topic of Work Life Balance & Personal Health (pictured to the left, Shayla is in the center).  For her the Women In Leadership Conference "provided women of all backgrounds the opportunity to engage, inspire and share insight not only on our successes, but our trials and lessons we learned along the way to become who we are; I was truly inspired by my fellow alumnae whom shared their personal and professional struggles, and gave advice on how to overcome challenges by knowing yourself and your strengths — and finding ways to help others with your strengths!  It was also a pass-the-baton moment for me to encourage current students to be 'the best you' and don't stop until you achieve the success you desire."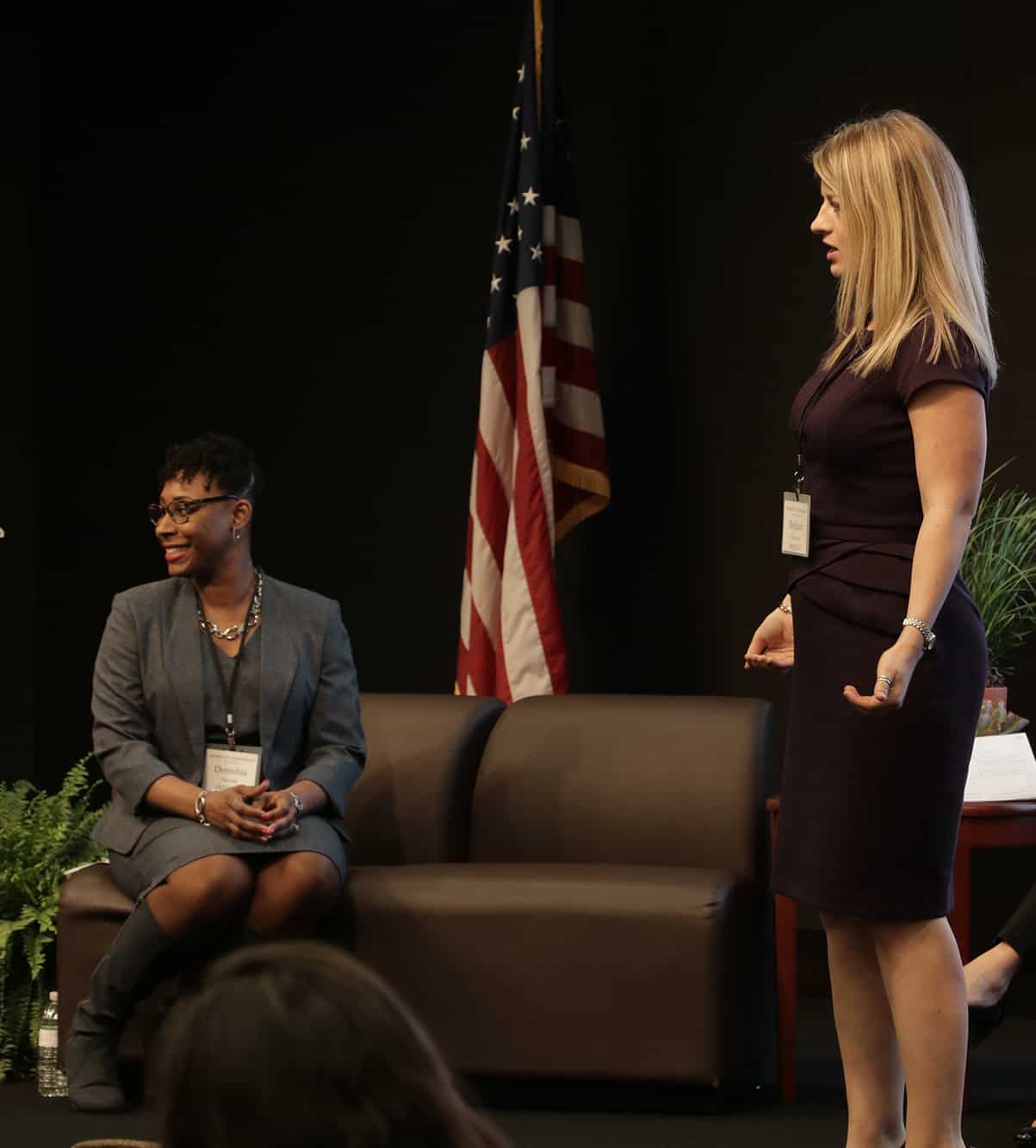 CCI Alumna Bethany Swonson, who works for Leadership Florida, led the workshop, "Confidence, Emotional Intelligence and Finding Your Voice!"(pictured to the right, standing).  She said, "The Women in Leadership Conference is one of my favorite annual events and always makes me a proud to be a graduate of the College of Communication & Information.  The conference continues to instill strength, skills, and character into everyone who participates and is a cornerstone event for the university. It was an honor to have the opportunity to 'lean in' and promote building a collaborative working environment for women leaders in our community."
According to Dean Larry Dennis, "Our FSU students are already inspiring us through their work both in the classroom and in the community; this event provides spaces to grow, opportunities to share and network, a place to seek mentors and to then make plans to continue those conversations after the conference ends; Florida State University's College of Communication & Information will continue its support of our students and our alumni; five years after we started this event, we have seen a tremendous positive response and we will continue to be a part of the conversation and effort as we go forward."
For a full list of speakers, see https://cci.fsu.edu/women-in-leadership-panel-speakers/
For a video, see  http://bit.ly/2HESHbp