CCI Alumnus Yevgeny Senkevich is making fresh, healthy food easily accessible with ROBOjuice. 
ROBOjuice is developing a solution for juice bar operators. The device is a self-service beverage kiosk that automates juice, smoothies and other specialty drinks. The kiosk, powered by robotics and A.I., can create a personalized beverage order-to-sip in just 60 seconds, using fresh ingredients, contactless service, and a small footprint. The robotic production cell is designed to deliver beverage consistency for consumers while providing juice bar operators a low capital, low risk way to test and enter markets. The flexible, small footprint kiosk provides easy deployment and operational execution while reducing overhead costs for labor and waste.
Co-founder, Yevgeny Senkevich, earned his Bachelor's degree in Information Technology from FSU in 2008. Senkevich has always been a supporter of personal wellness – while obtaining his Bachelor's degree, he worked as a personal trainer at Bobby E. Leach Student Recreation Center as well as a smoothie barista. 
His initial interest in food automation technology came from the outbreak of the COVID-19 pandemic, says Senkevich. In 2020, remote classes made it possible for Senkevich to broaden his education while living in the San Francisco Bay Area. Senkevich enrolled in a remote, self-directed study course where he was able to research labor issues relating to the COVID-19 outbreak. "I was researching the impact on labor across the restaurant, hospitality, and retail industries related to COVID-19. I was interested in automation technologies and contactless experiences using robotics and A.I." Senkevich told CCI.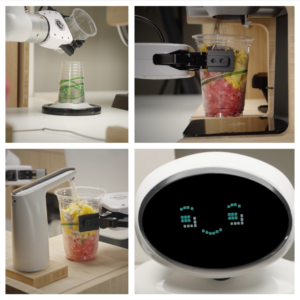 The following semester, Senkevich enrolled in a course based in team building, project management, and communication. While being enrolled in the course, Senkevich was also able to meet his co-founder, Mikalai Sakhno, who had operated 40+ food and beverage kiosks at the Sochi Olympics and F1 World Championships. "Mikalai has been working on a robotic juice bar concept since 2019 and reached out to me to see if we could join forces and work together," said Senkevich. "Two weeks later, we raised additional funding from angel investors, opened our warehouse location in Silicon Valley, and soon after built a production version kiosk". While taking these courses through FSU, he was able to use the knowledge he acquired to help assemble an initial team of talented engineers and spearhead the development of ROBOjuice. 
Currently, they have a team of seven working to get ROBOjuice ready for its first location, opening in 2022.
When it comes to starting a business, Senkevich advises current students to "be assertive, spend time wisely, learn with a purpose, and find mentors that can help you. If you fail, change your approach and try again. Don't try to do everything yourself, build a small team and scale your efforts." 
To read more about RoboJuice, visit https://robojuice.ai/