this article was written by Kelly Newbrough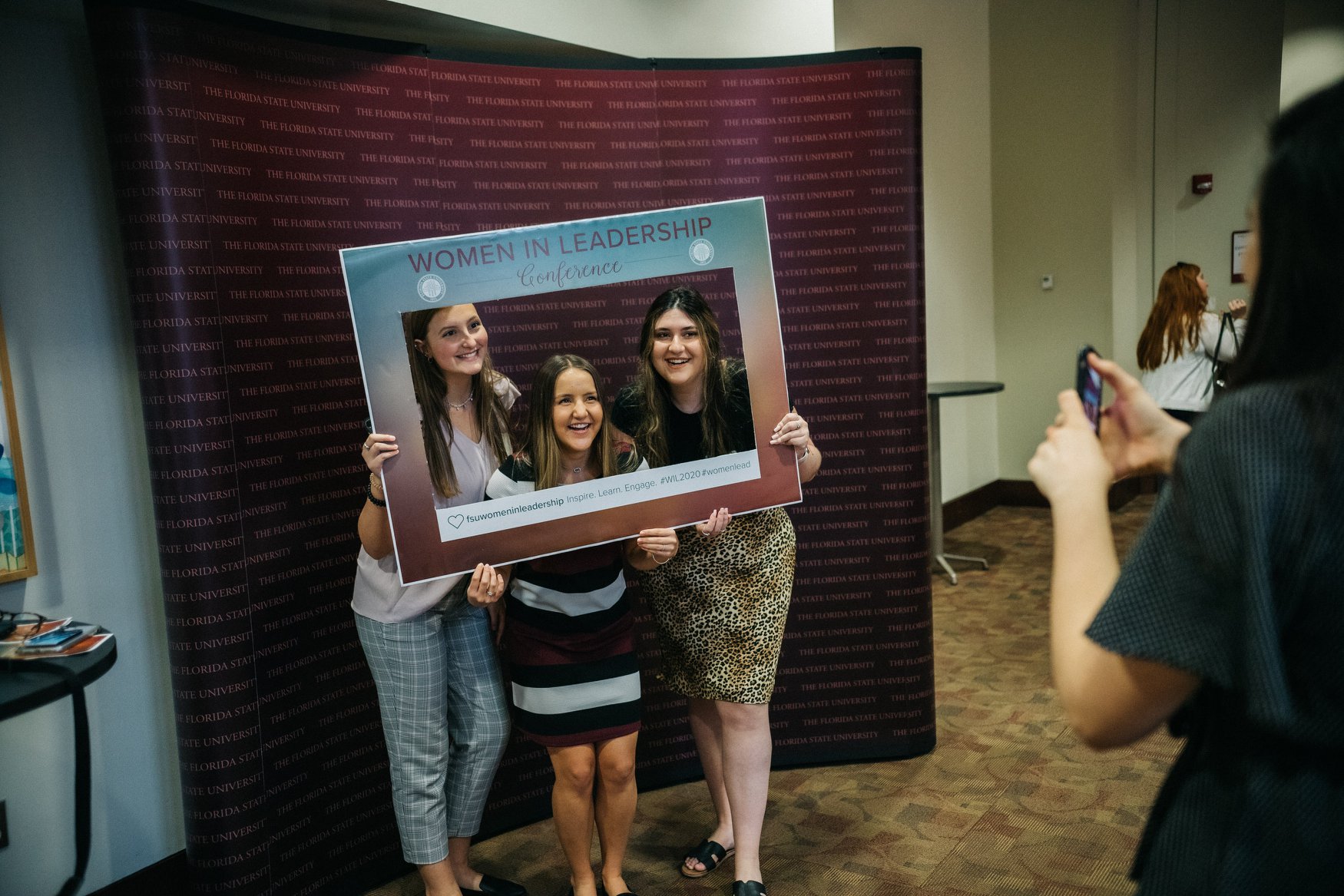 In this day and age it is important for women to unite. At this year's 7th annual Women in Leadership conference, women joined together to inspire, learn, and engage carrying on the strong themes of the conference once again. On March 3, 2020 at the Turnbull Conference Center, the Women in Leadership conference hosted workshops for women to learn strategies and techniques for personal and professional growth, inspired women with a strong and diverse closing panel, and engaged with organizations on and off campus that are in Tallahassee. The conference was conveniently during Women's History month and occurred only days before International Women's day, so it was a great way to come together and celebrate these two important events. Over 250 members of the community, alumni, students, and faculty attended the conference that was sponsored by FSU College of Communication and Information, College of Business, College of Social Work, Jim Moran College of Entrepreneurship, and Social Catering.
Inspire
The conference kicked off with a truly inspirational opening speaker, Sharon Delaney McCloud. The FSU alumna and TEDx Speaker spoke about having a voice and shared strategies that help amplify your voice. A few techniques included removing the filler words from your vocabulary, the right area to have your hands in while speaking, and even having a pre-meeting with other women to strengthen your voice when your professional environment is mainly men.
After some refreshments and workshops, our main panel wrapped everything up with emphasis on community and government involvement, mentorships, and great advice for women starting on in their careers. The panel included:
Moderator: Sharon Delaney McCloud, Partner & VP of Professional Development, Walk West
Helen Levin, Regional Vice Chancellor for External Affairs, University of South Florida St. Petersburg
Laurie Massaglia, Owner, Foundations for the Future Inc. & GoHorse.com LLC
Melode Smelko, Vice President, President & CEO, Altrua Global Solutions
Michelle Winokur, President, MW Consulting & Evaluation
Learn
The 40-minute workshops this year included the following topics:
Investing in YOU and Leading others: Leadership in Communication Fields
Getting to the table and finding your voice
The X Factor – Women in Business (global influencers)
Finding and Working With Partners in Entrepreneurship
Work-Life Balance: Creating Personal Resilience
Generational Leadership
Social Entrepreneurship
It's All Relative – Business and Family
Getting Involved Locally: Your community of mentors
Isabella Escobar, a student volunteer, said, "The Women in Leadership Conference was such a great experience! I got to learn so many helpful tips and skill sets from various inspirational women during the workshops that will help me grow my career as a woman and as a leader."
Engage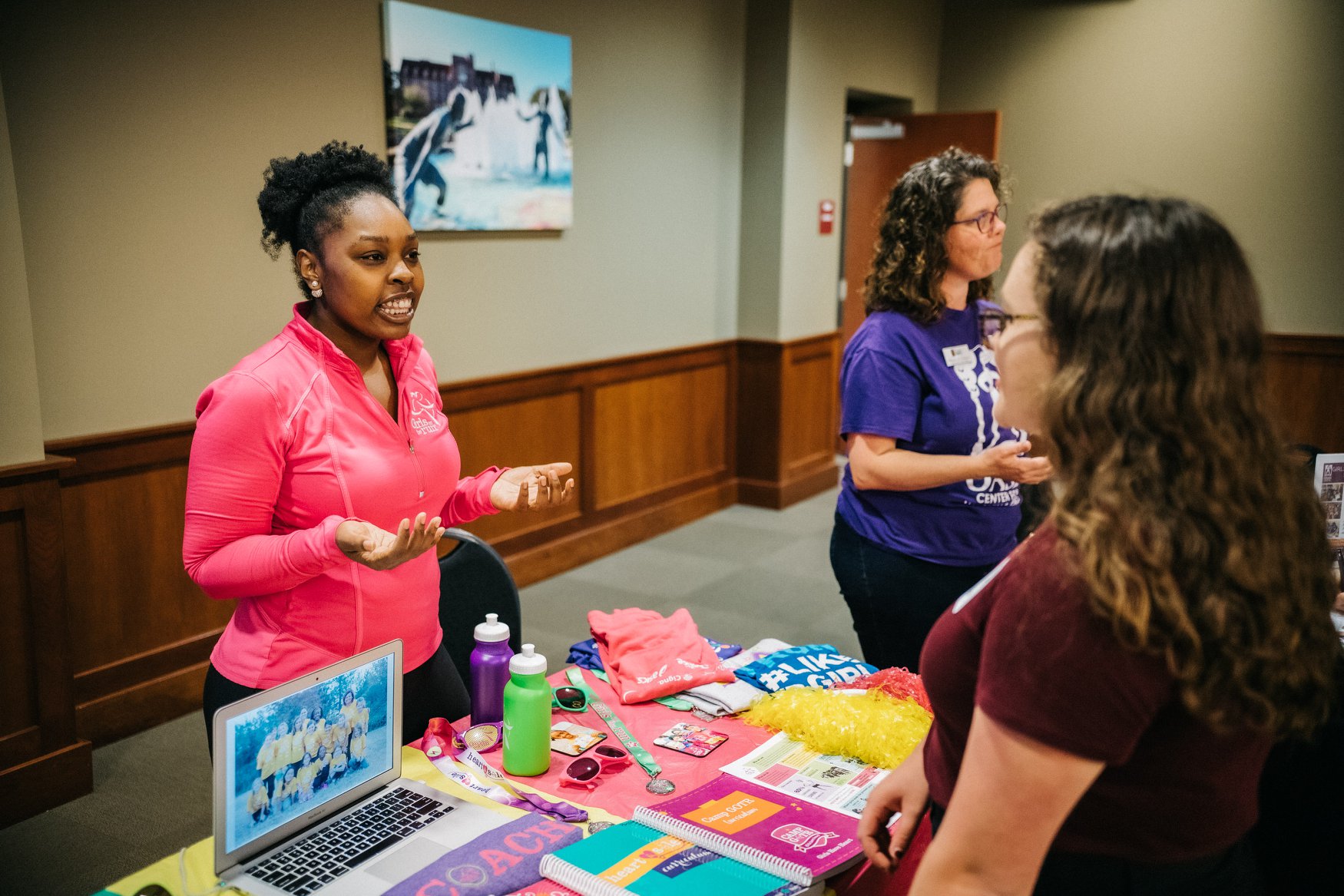 To help women engage with their community, there were plenty of organizations that tabled and were there to help promote involvement and networking. The community groups and student groups that tabled during the event include:
Community Groups:
Girls on the Run
Oasis Center for Women & Girls
Women in Transportation
Junior League of Tallahassee
Voices for Florida
Ladies Learning to Lead
Career Source Capital Region
Dare to Dream Young Girls Network
Women 4FSU
League of Women Voters of Tallahassee
Student Groups:
League of Women Voters FSU Chapter
Empowering Women Globally
FSU Women Student Union
Women in ICT/IT Sharing Experiences (WISE)
Women Wednesdays
HerCampus
H.I.C.S
Women in Business
Women in Pre-Law Society
Hollyn Saliga, the recruitment chair for the on-campus organization Women in IT/ICT Sharing Experiences (WISE), said, "It was a great experience tabling at a women's leadership event specifically because the intentionality and desire to form connections with everyone we talked to was so evident, even more so than when on campus"
For student organizer Rhiannon Jacobson this was her third Women in Leadership Conference. "I love this event because it's an amazing opportunity for women in our community to get together to network, inspire, and learn from each other," she said. "I've definitely become more prepared and confident, especially as I am starting my professional career."