School of Communication researchers have come together to study the return to live sports during the peak of the COVID-19 pandemic.
Their study, titled, "The Rush to Return to Live Sports Events: A Political Economic Analysis of Sports Entertainment in the Time of COVID-19," was recently published in the Political Economy of Communication. The article was a collaboration between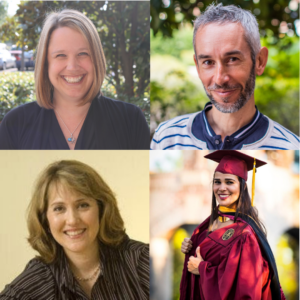 Dr. Jennifer Proffitt, Ms. Nivia Escobar Salazar, Dr. Juliann Cortese, and Dr. Patrick Merle. The initial conversation around this story began with Dr. Cortese and her doctoral candidate advisee, Ms. Salazar; Ms. Salazar has an interest in sports communication, and Dr. Cortese's area of study is health communication. Having worked with Dr. Merle and Dr. Proffitt before, Dr. Cortese recommended they join the project due to their research interests in crisis communication and the political economy of media (respectively).
The team worked together to examine the return to in-person sporting events, primarily UFC and WWE events. While many associate the push to return to live sports with consumer interest, this study emphasizes the role of owners, politicians, and media outlets in this decision. The piece uses the idea of political economy as a lens to examine the relationship between market forces, politics, and sports entertainment. Researchers also examined the unsafe work environment that UFC and WWE workers were subjected to during the height of the pandemic.
"The importance of this study is that it brings to light issues in society that we often take for granted. The study looks at the connections between sports media, the economy surrounding that media and political influences to understand their impact on the decision to reopen sports during the pandemic and the consequences of those actions." said Dr. Cortese, "This study is also important because it is an excellent example of faculty and students working together across various areas of interest."
To read the study in full, visit https://www.polecom.org/index.php/polecom/article/view/135/367.