Over the summer, Brianna Coltellino and Sara Collins, doctoral students in the School of Communication Science and Disorders, presented at the annual American Association on Intellectual and Developmental Disabilities (AAIDD) conference. The AAIDD conference recognizes research for individuals with intellectual and developmental disabilities.
Collins led a talk on her research titled, "A Review of Early Literacy Measures Administered to Children who use Aided Augmentative and Alternative Communication (AAC)" and Coltellino presented her poster on "Factors Contributing to Diversity in Parent Beliefs about AAC Telepractice Services During COVID-19."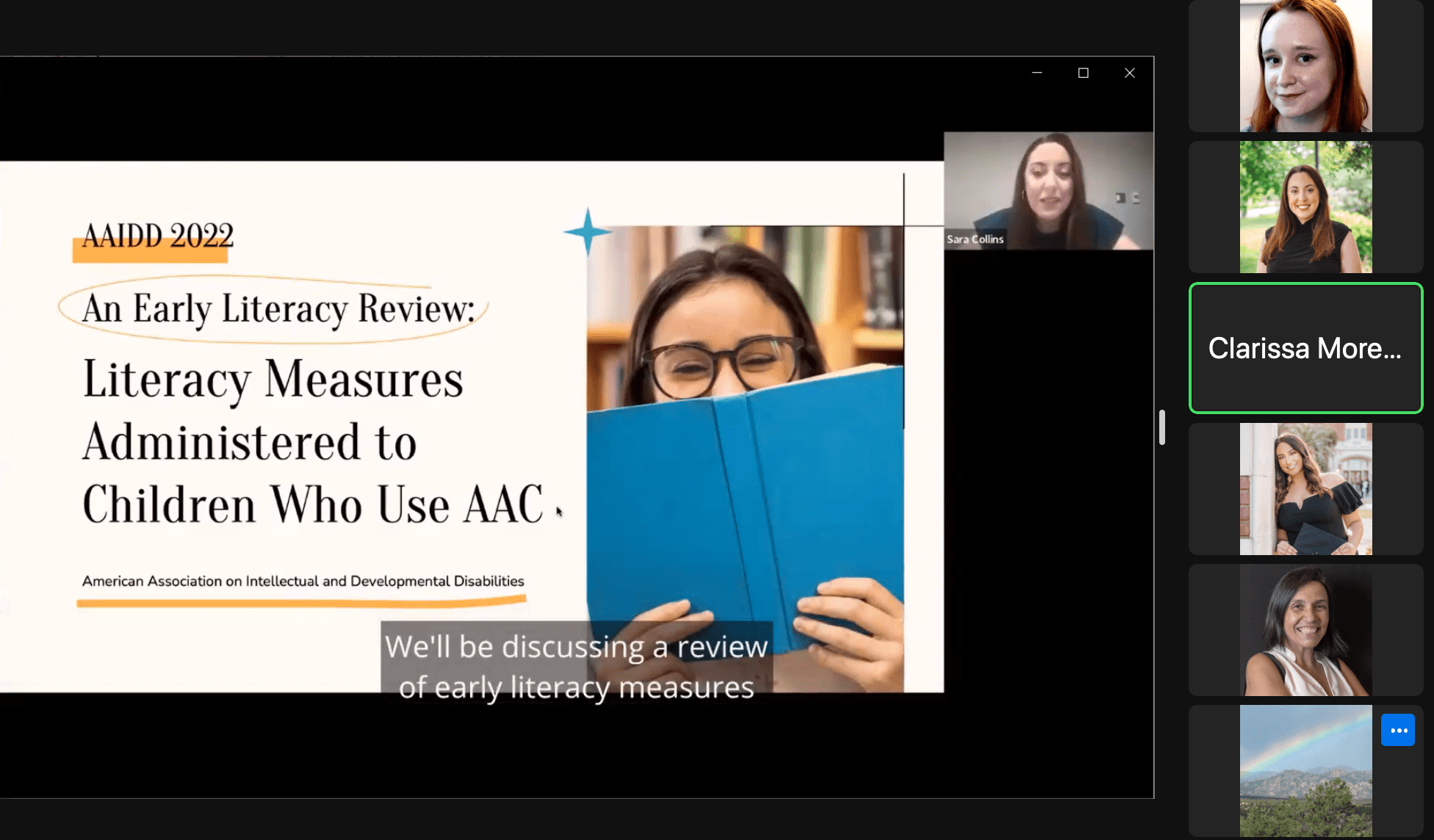 "It was an incredibly rewarding experience to present this area of work to a group of researchers who collectively seek to improve the lives of individuals with intellectual and developmental disabilities," Collins said. "The discussion at the conference, as well as during our presentation, always came back to how we can improve the quality of life of the people we work with."
The inspiration for Collins' research came from a problem she noticed at her job as a speech-language pathologist (SLP). Practicing in school-based and early intervention settings, Collins and her coworkers found there were minimal assessments that can measure the reading ability of the students they work with.
"The assessments that we do have particularly rely on spoken communication to participate," Collins said. "This makes it challenging for my students who do not use speech to communicate to participate."
Collins worked and presented with coauthors, Dr. Andrea Barton-Hulsey, Dr. Michelle Therrien, SCSD doctoral student Christy Timm, and SCSD master's student Shirin Khambalia. In their research study, they complied all available print knowledge assessments and established that only 28 percent of assessments were fit to a child's typical communication system.
"I wanted teachers, reading specialists, speech-language pathologists, and other partnering educators to have access to these assessment procedures and understand how these assessments have been used in different contexts so they can select a reading measure that feels like a good fit for their student and their environment," Collins said.
Coltellino also presented her research at the AAIDD conference, focusing on how speech-language therapy services were impacted by the COVID-19 pandemic. Dr. Andrea Barton-Hulsey and Dr. Michelle Therrien worked alongside Coltellino as her coauthors.
"I greatly appreciated them (Barton-Hulsey and Therrien) allowing me to join in on their initial study as a graduate research assistant," Coltellino said. "That is what led me to conduct this retrospective analysis of the data from half of the participants from the initial study."
This study was Coltellino's master's thesis, which she successfully defended this past July. Her analysis specifically looked at whether factors such as income or community type impacted parents' perceptions of the accessibility, feasibility, and effectiveness of speech-language therapy services during the pandemic.
"Parents in suburban and urban communities, and parents with high incomes described more barriers to accessibility and feasibility of speech-language therapy services during the early days of the pandemic," Coltellino said. "While parents in rural communities or who had low incomes found accessing services during this time relatively easy and found that the services worked well for their child."
These results did not align with Coltellino's initial hypothesis, but they did show how teletherapy services were more accessible for families in rural communities or those with "low income." Contrastingly, families in suburban and urban communities or families with "high income" found the teletherapy services were harder to navigate.
"This was my first time attending the AAIDD conference specifically, and I gained quite an appreciation for interdisciplinary conferences that bring in individuals from a vast array of fields," Coltellino said. "I look forward to attending again in the future!"
Both Coltellino and Collins will be continuing with research on their respective topics. Collins will be evaluating the validity of assessments by observing their utility in classroom settings. Coltellino, with another poster presentation coming up, will be presenting the final results of her master's thesis at the American Speech Language Hearing Association (ASHA) Convention this November in New Orleans.