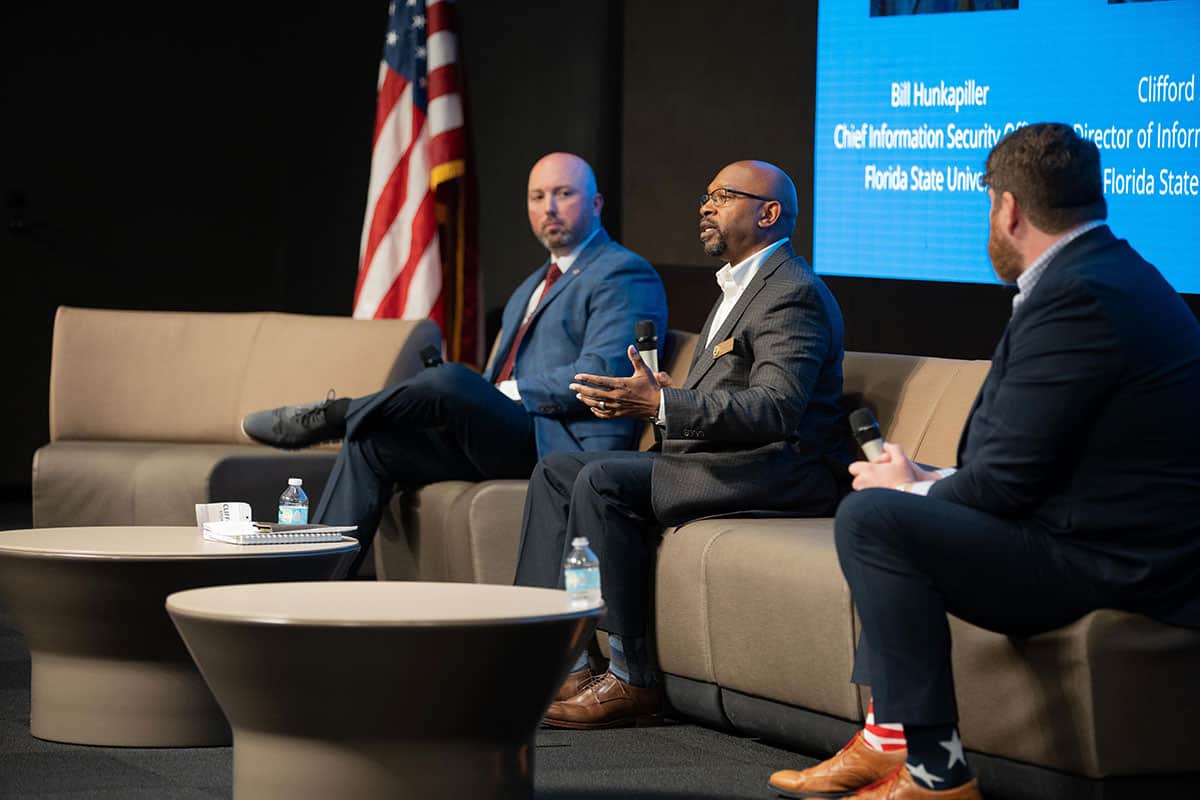 Technology is a necessity in our daily lives. We rely on technology both locally or in the cloud to keep us connected, pay bills, shop, travel, and work. Governments and businesses store and transmit data on various devices and networks; all of which makes them vulnerable to hackers.  Data breaches, hacking attacks, phishing, malware, and viruses are part of the threats we face daily. Cybersecurity is a critical component of our public and private lives and how we protect ourselves and our data is crucial to our success.
With all these threats, learning about ways to protect yourself and your business is critical.  On July 27th, the FBI Jacksonville Division, Florida Technology Council (FTC), and College of Communication and Information teamed up to host the 2022 Cybersecurity Symposium at the Florida State Conference Center. With over 175 attendees from local businesses, government agencies, and education in attendance, the symposium attracted many in our community interested in how they can protect themselves and how they can prepare for future threats.
The symposium kicked off with opening remarks from Dr. Stephen McDowell, Interim Dean of the College of Communication and Information, and continued throughout the day with presentations from the Cybersecurity and Infrastructure Security Agency (CISA) and the FBI. There was also an educational roundtable discussion with panelists from Florida State University, ID.me, and Palo Alto. Presentations focused on topics such as foreign interference, cyber preparedness, robotics assistance devices, and election security. The event concluded with a presentation on deterrence and vigilance from CISA and a lesson on active shooter training from the FBI.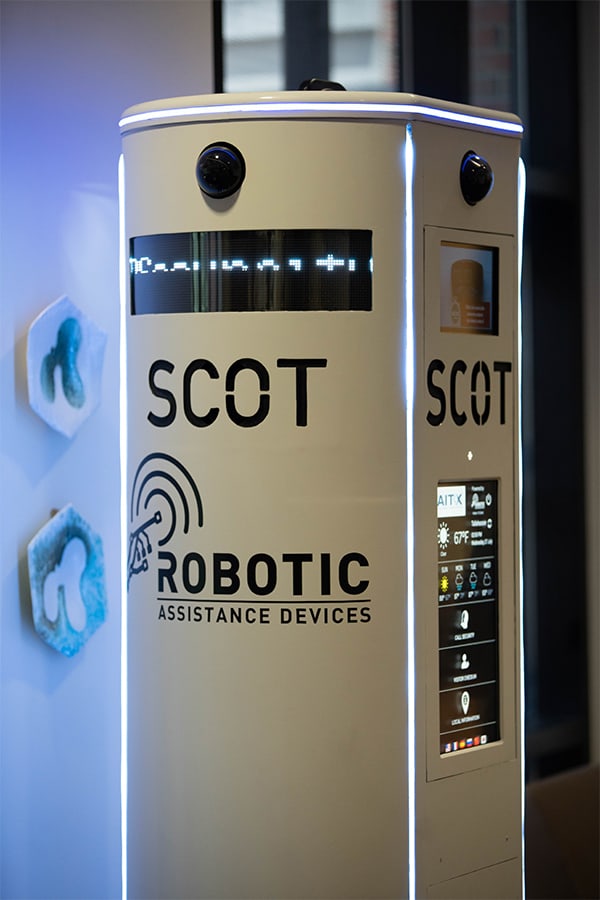 "The FBI Cybersecurity Symposium gives the FBI an opportunity to educate the private sector, academia, and community on emerging cyber threats, and provide them with guidance to protect themselves and their organizations. This event brought together a diverse group of professionals representing a wide range of organizations who shared experiences and knowledge that will help prevent cyber-attacks," says Joshua Chancey, Community Outreach Specialist with FBI Jacksonville. "Networking opportunities like the FBI Cybersecurity Symposium are invaluable to the attendees and the FBI, and an important step in strengthening our national security."
The Cybersecurity Symposium also had new technologies to showcase. Robotic Assistance Devices (RAD) Security brought in their Security Control Observation Tower (SCOT), which stands over 7 feet tall and has a 360° field of view through four high resolution cameras that can monitor and record human and vehicle activity. RAD's SCOT robot shows us that security can take new forms and has the ability to do the same job, and maybe a better job, than a person.  Bear Robotics showcased their Servi Robot, which is a 100% self-driving robot that is built with advanced LiDar sensors and multiple cameras. The Servi Robot helps to eliminate traffic in restaurants, while also cutting costs of labor.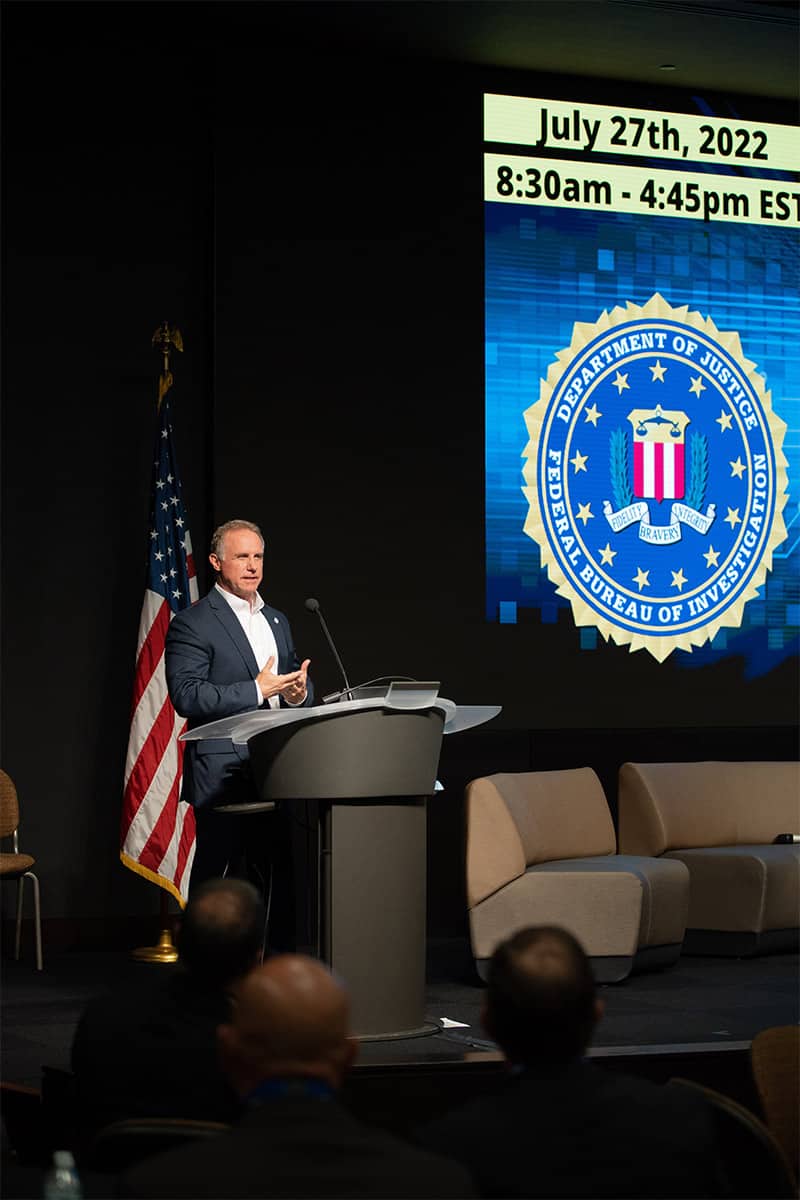 "The College of Communication and Information (CCI) has been very active and engaged with our local tech community. This event helps connect people in the Tallahassee tech community with the FBI and industry resources. CCI (faculty, students and alumni) are very integrated into the local tech initiatives," says CCI Associate Dean Ebe Randeree. "As an educator, it's important to provide students with opportunities to hear from industry and federal experts so that they can have the tools to build strong career paths in cybersecurity."
"This was our sixth, and strongest, Cybersecurity Symposium the Florida Technology Council has delivered across the state in partnership with the FBI. As a member of the Council, FSU CCI went above and beyond in collaboration on this event. It was CCI's hands-on participation, and contribution of the Florida State Conference Center, that made it possible to successfully manage and host a turnout of this magnitude." says James Taylor, CEO of Florida Technology Council.
The College of Communication and Information, Florida Technology Council, and FBI previously hosted a Cybersecurity Symposium in March 2020 prior to Covid.  For resources related to cyber, visit:
https://www.fbi.gov/file-repository/law-enforcement-cyber-incident-reporting.pdf/view
https://www.cisa.gov/cisa-cybersecurity-awareness-program
https://emergency.fsu.edu/hazards/cybersecurity
To see the full photo gallery, visit: