Speech pathologist and Florida State faculty member Linda Sasser founded Listen Camp with the L.L. Schendel Speech and Hearing Clinic in 2019. This camp connects students with hearing loss and provides them with exciting experiences, stimulating activities, speech therapy, and much more. The recent pandemic and mask mandates have complicated communication for those with hearing loss as well as the deaf community as a whole. Organizations like these have been able to provide relief and help support students during this time.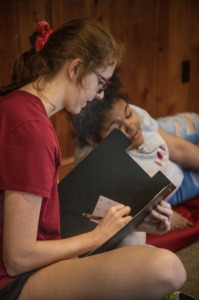 Listen Camp is an experience that provides students ranging from kindergarten to third grade with the opportunity to engage with their peers who experience hearing loss. Children with hearing loss often find that they are the only ones in their classrooms, schools, or communities that have this disability. Experiences like these show children they are not alone and provide them with new relationships within this space.
For the first time following the COVID-19 pandemic, Listen Camp hosted students at FSU's Reservation. From July 19-23, campers were able to swim, dance, create art, and more.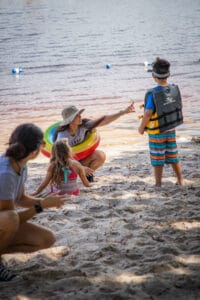 When asked what their favorite experiences from the camp were, the students cited "capture the flag, arts and crafts, and listening to fun music" as some highlights of their week. Six students attended, with four having returned from last year. Each camper is paired with a graduate speech-language pathology student who tailors these activities to fit their needs. These real-life applications of their studies provide them with amazing experience while doing the same for the children.
Graduate students work one on one with campers to achieve speech therapy goals, such as "localizing sound, following directions, recalling steps, and self-advocacy." Counselor Carolina Bou explained that most therapy administered since the pandemic had been teletherapy, so the opportunity to see all the kids in person was an amazing one.
An issue that children with hearing loss often face is isolation within educational settings. Students are hesitant to speak up when they are the only person learning with their disability. This camp prioritizes providing them with voices and teaching them to ask for whatever they may need.
"Be the boss of your hearing loss" is a statement leaders teach these students to live by. Through assisting them with confidence building, advocacy, and more, the children learn to fight for themselves and build a community of friends with hearing loss within the program. With the kind support of donors through Spark FSU and the FSU Foundation Board of Trustees, many students were able to attend through scholarships.