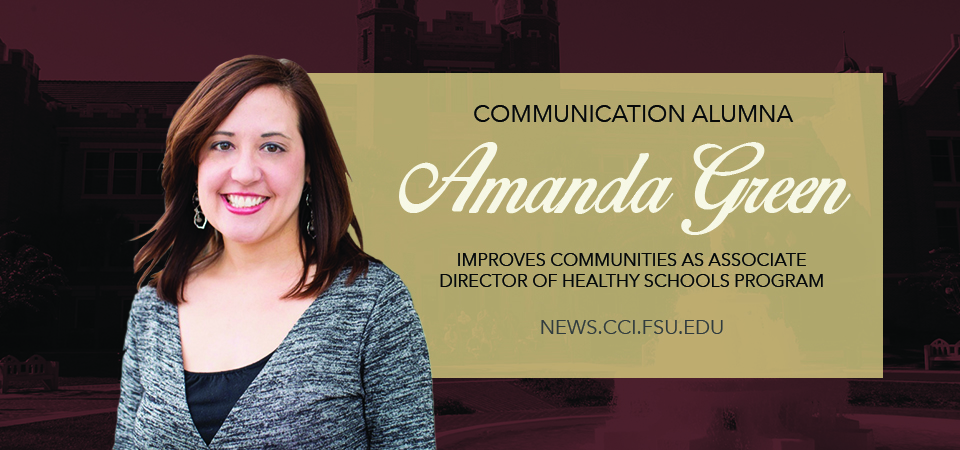 Amanda Green (B.A. Media Studies, '00) has used her experience at Florida State to help pave the way for a career dedicated to public service. While at FSU, she enjoyed serving the community as a member of national service fraternity Alpha Phi Omega. After graduating, she accepted a job coordinating service projects as the Assistant Program Director (APD) with AmeriCorps*NCCC. It was then that she realized that she wanted to pursue a career in nonprofit work.
Green explains, "It's rewarding to contribute as an active member of my community and feel that my skills, knowledge and time are benefitting others and helping to make a difference in any small way."
Since 2009, Green has served as the Associate Director for the Healthy Schools Program (HSP) with the Alliance for a Healthier Generation. She leads a team of eight HSP managers across the country in order to reduce the prevalence of childhood obesity using evidence-based tools and resources. Green and her team improve the well-being of both students and school staff by helping schools build healthier environments.
She shares, "I've enjoyed working in communities with people from diverse backgrounds, which has expanded my perspective, increased my self-awareness and connected me to the larger social issues facing our society."
Green's work in public service motivated her to pursue a doctoral degree in Organizational Leadership at Pepperdine University, where her research focused on female leaders in nonprofit organizations and work-life balance. Her research will be published in the second volume of Women in Leadership and Work-Family Integration.
In her free time, Green enjoys traveling, sailing and spending times with friends and family.
To learn more about the Communication programs available at Florida State, follow this link.