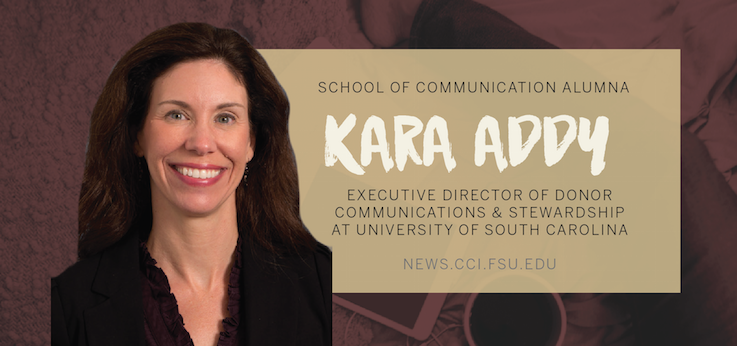 Kara Sproles Addy (B.S. Communication, '91) has utilized her degree in an assortment of sectors. Spanning from education to nonprofits to consulting, Addy's successful career path stems from a rich and fulfilling student experience at Florida State University.
Today, Addy works at the University of South Carolina as the school's first Executive Director of Donor Communications and Stewardship. Leading a team of five, a typical day for her and her team might involve developing e-communication and videos for donors, tracking progress on individual stewardship plans, creating positive donor experiences at an athletics event or creating content for the donor website.
Addy explains, "Donor relations is a specialized type of public relations, key to successful fundraising, and I'm thrilled with this latest chapter of my career."
Private funding and the generosity of donors are of rising importance as a result of the recent decline in South Carolina's funding for higher education. Addy's position helps ensure that donors are recognized and engaged as well as delighted.
She began her position in 2015, towards the end of a campaign called Carolina's Promise that aimed to raise $1 billion for the University of South Carolina in eight years. Addy was responsible for implementing a social media campaign designed to encourage donors to help Carolina's Promise finish strong as well as strategically communicating the university's gratefulness to its donors. The campaign raised $1,043,265,730, making the University of South Carolina the first university in the state to reach such an amount on time.
Addy has always enjoyed leadership roles in the fields of public relations in communication. While at FSU, she was not only a Delta Gamma sister but also the Panhellenic President. She worked hard to raise awareness of importance issues such as hazing, sexual violence and eating disorders.
She asserts, "Florida State is an excellent place to grow one's leadership skills and this invaluable student experience left a lifelong impression."
In her spare time, Addy enjoys partaking in outdoor activities with her husband and children. She also enjoys teaching Sunday school, taking classes at the gym and cheering on both the Seminoles and the Gamecocks.
Addy contends, "I could not be more proud to be a Seminole alumnae. When I chose Florida State, I didn't realize how rewarding and meaningful the student experience would be throughout my life. It was one of the best decisions I have ever made."
To learn more about the Communication programs available at FSU, follow this link.