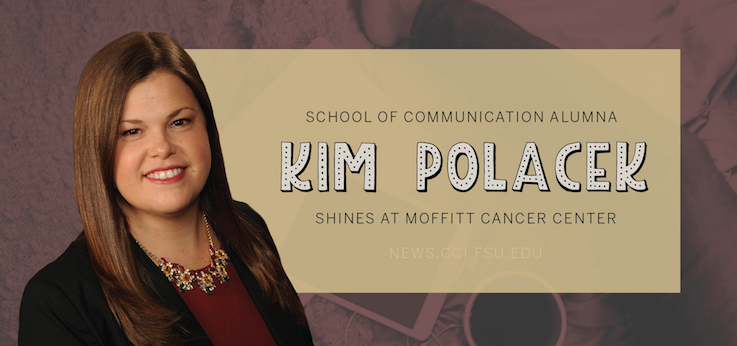 Kim Polacek, APR (B.S. Communication, '98) has impressive career experience working in television news production throughout Florida. However, her true passion and current career both involve public relations. As the Public Relations Account Services Coordinator at Moffitt Cancer Center, Polacek's work truly makes a difference.
She shares, "The best part of working at Moffitt is knowing that while you may not be directly involved in patient care or research, your work is helping support the center's mission to contribute to the prevention and cure of cancer. There is a sense of accomplishment that comes with knowing you're helping in the fight against cancer."
Polacek is kept on her toes at Moffitt, where no two days are ever the same. She provides a myriad of public relations services for fields such as research, technology management and government relations. Her daily work is determined by the clients' goals, which vary greatly between focus areas. On any given day, she might be found providing a strategic plan for a certain initiative, planning an event, drafting a news release about a recent research study or gathering information to create content for Moffitt's social media channels.
She explains, "Florida State University and its School of Communication have provided me with invaluable tools and the experience needed to be a success."
Polacek did not always plan to go into public relations. While at Florida State, she took courses that emphasized broadcasting and writing with dreams to become a television news journalist. Although directors told her that she looked too young to be perceived as credible on screen, she still enjoyed a successful career as a producer. However, after about a decade in the field, the long hours, lack of time off and decline of local television news brought to light the fact that she wanted to make a change.
Polacek thought back to her days at Florida State and her public relations coursework and took a leap into the world of public relations. She began doing media relations work and eventually earned her Accreditation in Public Relations (APR). She is also on the board of Tampa's Florida Public Relations Association (FPRA) and Public Relations Society of America (PRSA) chapters.
Additionally, Polacek has won five public relations awards for her public affairs program, Moffitt Day 2015. The program encourages those impacted by cancer to to join Moffitt at the Florida State Capitol to raise awareness of the disease's toll on Florida families and highlight Moffitt's efforts to prevent and cure it. She has experienced all of this success in the field with just seven years of working in it.
In her spare time, Polacek participates as a board member of the Tampa Bay Seminole Club and enjoys baking and decorating cakes, running and practicing yoga. In five years, she sees herself managing or supervising her own PR team.
To learn more about the Communication programs available at Florida State, follow this link.