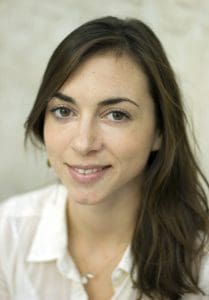 Malia Bruker is an Assistant Professor and alumna of the College of Communication and Information. Bruker earned her B.A. in Media Production at Florida State in 2005. She then went on to Temple University to earn an MFA in Film and Media Arts. She has been teaching at FSU since 2014, but still finds time to enjoy one of her great passions   creating and editing films. Her teaching interests include Video and Documentary Production, Media Literacy, Cultural Studies, and History & Theory. Bruker is interested in researching Documentary History, Documentary/fiction hybridity, Race and Ethnicity in Media, Social Change, Alternative Media, Political Media, and Theory & Practice.
She is a founding member of EDIT Media   a group of faculty who teach media in higher education that are working to increase diversity in media programs and industries. Bruker presented her short film Sakhi at the University Film and Video Association Conference in Las Cruces, New Mexico July 23-26, 2018. Bruker shared, "I'm really proud to be a founding member of EDIT Media. Led by Jen Proctor of University of Michigan, Dearborn, this group has created a really helpful set of guidelines and resources for media production educators interested in building more inclusive and diverse classrooms and programs. We've gained a lot of momentum in this first year and our presence at the conference was very strong. Our goal is to encourage all film and media production programs to adopt the EDIT Media policies, and I think we made great strides toward that goal at UFVA."
Bruker also co-led a workshop titled "Class Conflict: Workshopping Difficult Issues in Inclusive Teaching" which is described as the following:
"Built upon the Best Practices for Inclusive Teaching established by EDIT Media (Equity, Diversity, and Inclusion in Teaching Media), this workshop invites participants to bring assignments, problems, or dilemmas around the topic of inclusive teaching to the table. Together, we workshop these topics with the goal of developing concrete teaching resources before we leave." Resources developed from the workshop will be added to the EDIT Media website in the coming weeks.
You can also view a list of the 10 Best Practices for Teachers and 5 Best Practices for Administrators at editmedia.org. To learn more about Bruker, visit her website.