CCI Alumna Caroline Krantz recently completed the entirety of the Appalachian Trail. Krantz graduated in 2018 with her Bachelor's degree in Media/Communication Studies.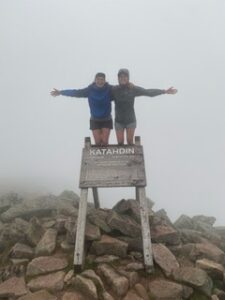 Completing a thru-hike of the trail is no easy feat. Stretching over 2,190 miles from Georgia to Maine, the trail usually takes hikers 5-7 months to complete. Hiking the trail is both physically and mentally demanding. Krantz tackled the challenge alongside her good friend. Together, it took them six months and six days to complete the duration of the trail. Learning how to deal with different conditions is a major challenge of the trail, and Krantz says this was the most difficult part of their journey. 
She told CCI, "The most challenging part was definitely Vermont, often referred to as VerMud by people on the trail. We had wet shoes and socks our whole time walking through, trudging through mud. We did a flip flop hike, starting in New York, so Vermont was our first time on trail experiencing loads of rain. It was a big learning curve, coming to know quickly that rain gear only keeps you so dry." 
Despite the changing weather conditions and physically taxing nature of the trail, Krantz says the accomplishment was well worth it. The most rewarding part of her journey was hiking in New Hampshire and Maine. "The hiking involved a lot of scrambling, using your entire body to get up and over the rocks. It is the hardest hiking I have done in my life, but the views are insanely beautiful and worth the climbs.I felt beastly, and extremely accomplished being able to do all that hiking, ending with the tallest mountain in the area, Mt. Katahdin." 
Krantz has always been attracted to nature, and says her desire to complete the Appalachian Trail started during her time at FSU. Her interest peaked after going on several short trips with Outdoor Pursuits where they hiked short portions of the trail. "It was my introduction into backpacking and it was phenomenal. I learned so much in those short spans of time, and from then on it had been in the back of my mind to complete the trail," said Krantz. 
Krantz joins a group of over 20,000 people known as "2,000-milers," or, people who have successfully completed the trail. She is joined by another CCI alumna, Mary Jeanes, who completed the hike in 2014. 
For more information on the trail, visit https://appalachiantrail.org/