While Alex Wendling and Nicholas Rivero were in Seminole Productions at different times, they now both work on events for Karate Combat (KC), a professional, full-contact karate league. Seminole Productions is Florida State University's (FSU) "professional live sports broadcasting, sports venue entertainment, and special event production department" within the College of Communication and Information (CCI). Described as the "combat sport of the future," Karate Combat combines the art of karate with cutting-edge video production.
As a host and reporter, Wendling conducts live pre and post-fight interviews for Karate Combat, interacting with famous martial artists such as former two-time Glory Featherweight champion, Gabriel Varga. Supporting the virtual reality side of Karate Combat, Rivero and the company he co-founded, Meptik, work with KC to create the multi-reality experiences the fans love.
Alexandra Wendling (Media and Communication Studies '19 and Integrated Marketing Communications '20)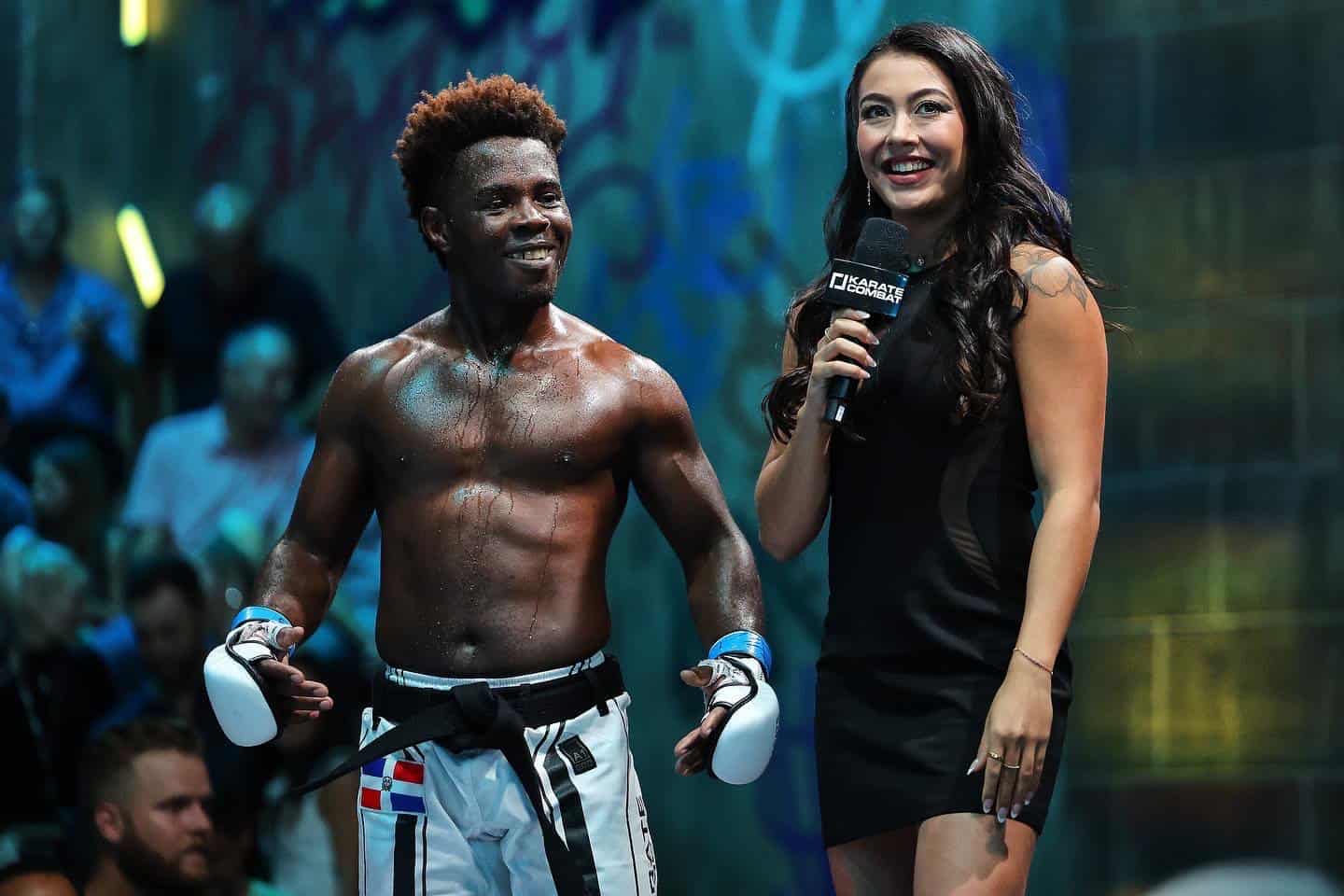 Alex Wendling is a two-time FSU CCI alumna, receiving her bachelors in MCS in 2019 and her master's in IMC in 2020. Before working for Karate Combat, Wendling has reported for the ACC Network, Fox Sports Florida and High Rollerz to name a few. Her vast on-camera and production experience also led to the creation of her YouTube Channel where she regularly posts combat sports news.
How did you get involved with Karate Combat and why were you interested in it?
"I was hired as an associate producer and on-camera personality for Wave Sports Entertainment– which owned the popular MMA media page called Haymakers. The President of Karate Combat saw one of my combat sports clips on Haymakers and reached out to me via Instagram and initiated interest in working together.
Coincidentally, the follow up meeting between the President and I was on the same day Wave Sports Entertainment had a mass lay-off, letting go over 80 employees from not only the sports departments, but from finance, HR and more. It was divine timing that the day I was laid off from my full-time job (allowing me the time to take freelance work without conflict) was the same day I signed with Karate Combat."
What are your roles in Karate Combat and have you taken on any new roles since starting?
"When I first started it was like an audition, I first started doing digital content and interviews in that realm. If they thought it was a fit, then they'd resign my contract. It was fun, but it was still a lot of pressure. You want to be on top of everything, responding to every email, and on time to every meeting. You're trying to make a good impression on everyone.
Once I did a good job with the digital reporting, they moved me up to do the post-fight interviews on the broadcast alongside UFC Hall of Famer, Bass Rutten, and Hall of Famer, Georges-St. Pierre. It's not a full-time gig. It's a contract. It's constantly proving yourself, so showing you know the sport, you know how to ask good questions, and basically using everything I learned in college from a journalistic standpoint and transferring that into combat sports."
How long have you been working with Karate Combat, and what has been your favorite event so far?
"I've been working with Karate Combat since the beginning of June. I would say my favorite event was definitely the Halloween event, it was a lot of fun and there were three knockouts. I think that one was the most exciting because the previous one didn't have as many finishes."
How has your time at FSU impacted your career endeavors?
"My dream has always been to be on camera. When I was working with Seminole Productions, it was with the intention of learning the behind-the-scenes to help my on-camera performance. Because if you understand what's going on behind the scenes, you can completely just improv. If you can improvise and make it seem like there's been no error behind the scenes, then the show will go on.
I think what also taught me so much was being a graduate teaching assistant for the public speaking class, SPC 2608. I got to learn how to break that down and also see it from the opposite side, so a teacher's perspective. I saw what happens when kids procrastinate, they don't do as well. If I were to procrastinate at Karate Combat, I wouldn't perform as well. If I didn't know how to pronounce every fighter's name, I wouldn't perform as well, so it really comes down to that preparation."
Nick Rivero (Media Production '06)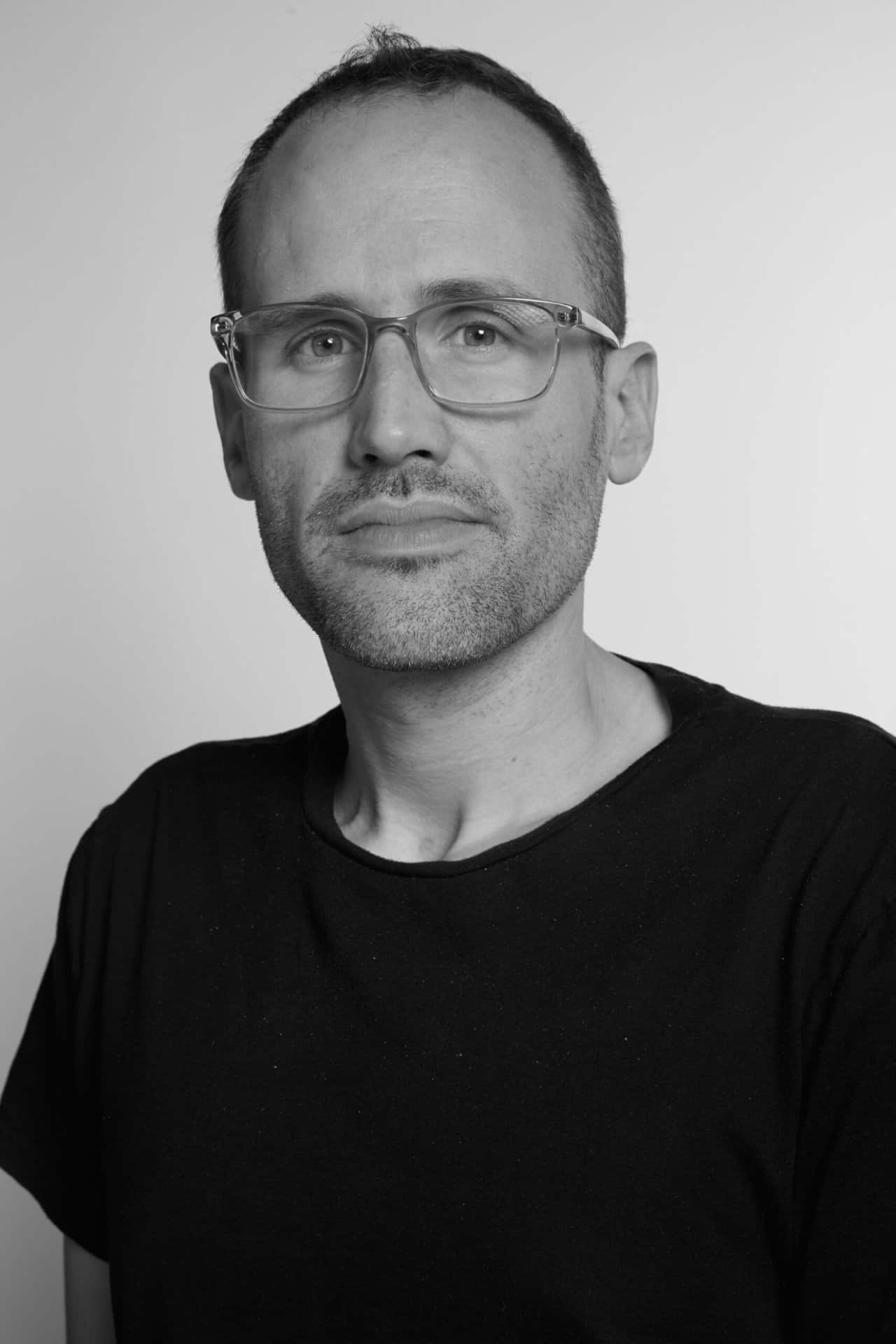 Rivero graduated from FSU in 2006 with a bachelor's degree in Media Production and has gone on to help Fortune 100 companies, musical artists, films, and broadcasts by bringing their creative visions to life. In 2015, Rivero co-founded Meptik, a virtual production and creative services company based in Atlanta. For Karate Combat, Rivero has helped the brand create CGI environments for their live-action events.
How did you get involved with Karate Combat and why were you interested in it?
"Karate Combat prides itself on merging cutting-edge video production techniques with the ancient art of karate, so when they brought us on board to oversee the technical implementation of the extended reality integration on set for KC 35, we knew we would be working on a project that would define how future live-audience/live-stream productions would look like. Karate Combat is all about the next level of entertainment – implementing real-time data and utilizing new web 3 tools – which is right up our alley. With our tagline "Upset Reality" we help build dynamic hybrid realities that blow audiences away—and keep them coming back."
What were your roles in the Oct. 29th Karate Combat event?
"Overall, we focused on the mixed-reality environment for the live broadcast. Our virtual art department built upon the virtual scene of a dystopian Paris and added zombies and other elements for the Halloween-themed event. Our volume control team focused on both the technology and systems to immerse remote audiences in the set that consisted of both physical and digital props. Integrating xR, Unreal Engine VFX workflows, and set extension allowed for an all-encompassing visual experience for viewers at home."
How has your time at FSU impacted your career endeavors? What projects have you worked on besides Karate Combat?
"FSU has prepared me in exploring the world of technology and system design for multi-camera & live production. After graduating from FSU, I worked in live event productions, with concert artists ranging from Taylor Swift to Lady Antebellum. I then went on to form Meptik with Meptik's founder Sarah Linebaugh, back in 2015, and since then we have worked on everything from creating mind-blowing live experiences to xR music videos to virtual events and corporate communication.
Meptik has helped luxury brands, Fortune 100s, sports networks, and film and music producers bring their creative visions to life. FSU provided me with the fundamental knowledge to get to where I am today, being able to lead a team of talented individuals that explore what is possible beyond the physical realm on a daily basis, creating experiences that have never been done before."
How has Meptik set Karate Combat apart from other combat sports?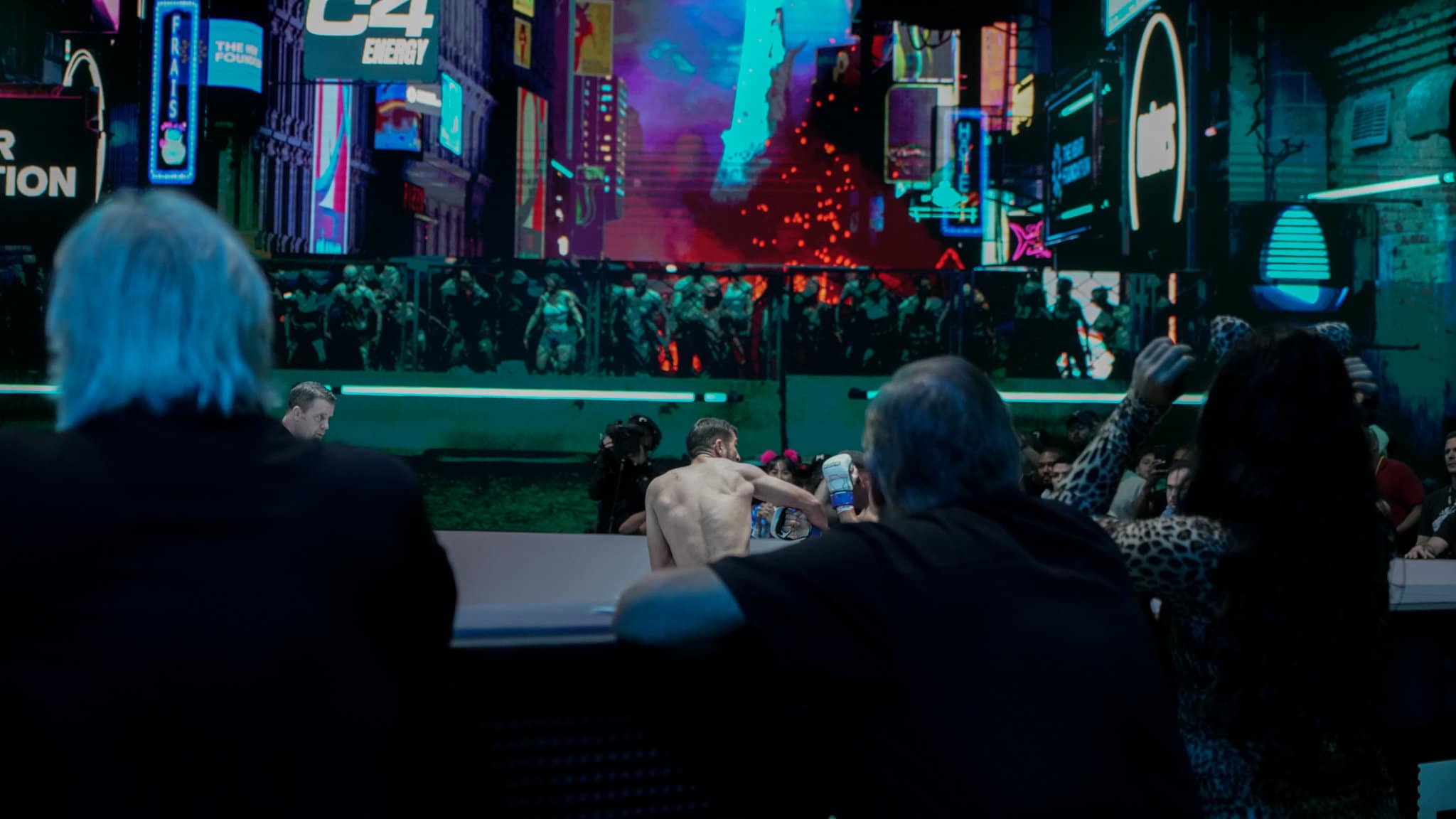 "Karate Combat is tackling a problem that is not only arising in the professional sports industry but also in many other industries: keeping up with current technological advancements. Serving an audience that grew up with technology being readily available all the time fueled by a surge of digitalization during the peak of the pandemic, businesses have to re-think experiences.
We believe that the future consists of seamless multi-reality experiences and focus on creating immersive experiences that combine both physical and digital assets into one cohesive activation. With the utility of Web3 tools and blending live-action with CGI environments, Karate Combat is at the forefront of creating these experiences."
Check out Rivero's work with Meptik here and Wendling's Youtube for the latest combat sports news!