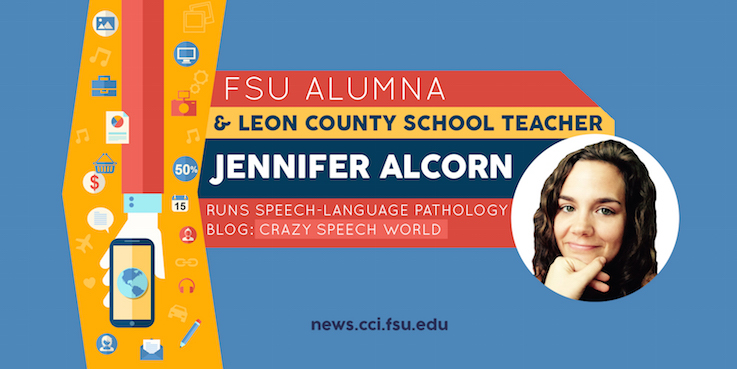 Jennifer Alcorn (M.S. Communication Science & Disorders, '07) has taken the speech pathology world by storm with her blog, Crazy Speech World. Additionally, she works with Leon County Public Schools with students from preschool through fifth grade. She has also been published in the American Speech-Language-Hearing Association's journal, the ASHA Leader. Clearly, Alcorn has a lot on her plate. However, that hasn't deterred her from her passion to work with children with disabilities.
Alcorn says, "I love being able to work directly with children, but also the opportunity to collaborate with families and educators to create a positive impact in these children's lives."
Part of creating a positive impact in these children's lives involves reaching out to those families and educators. After reading several inspirational and educational speech-language pathology blogs, Alcorn decided to start her own. However, she never anticipated that Crazy Speech World to kick off as much as it has.
Of Crazy Speech World, Alcorn asserts, "I've learned so much and met so many amazing people because of it. I think it makes me a better SLP [speech-language pathologist]."
Alcorn believes that she had strong professors in just about every one of her undergraduate and graduate classes at FSU. However, the professor who has impacted her day-to-day life the most as an SLP is Dr. Lisa Scott. Alcorn calls Dr. Scott a speech fluency guru who has taught her how to help treat the hardest communication disorders.
She elaborates, "I can confidently say that I love working with my students who stutter because of her."
When she's not busy changing children's lives, Alcorn enjoys hanging out with her family (she says that being a mom is her favorite job), traveling, spending time at the beach, and watching FSU football.
To learn more about FSU's Communication Science & Disorders program, click here.