John DuBard, current faculty member of the College of Communication and Information, is an FSU alumnus with an M.A. in Theater and a Ph.D. in Communication. This man of many talents first earned a B.A. in Mathematics at the University of Mississippi in 1966 after frequently visiting the college as a high school student to experiment with one of the first computers to ever be in Mississippi. Once DuBard became a student there, he took all three of the computer classes offered at the university at the time.
After earning his Bachelor's, DuBard spent four years in the Air Force working on computers, but then decided to go back to school to pursue other passions. The former band member, singer, and athlete started taking graduate courses in music, theater, and communication. He spent six years working in Information Technology for the state of Florida, meanwhile managing an out-of-state consulting firm for the Department of Transportation. This prompted DuBard to start his own computer consulting firm, Advanced Systems Design (ASD), which is now 38 years old.
DuBard knew he wanted to start his own business ever since he was ten years old, when he built a pond in his backyard to try to house a turtle-selling business. "I guess I always wanted to be an entrepreneur, I just did not know what it meant or how to spell it."
DuBard recalls how he learned through his turtle adventure that it takes more than a good idea to grow a business. "Even though I had great desire, was highly motivated, and worked hard, I needed to know more about planning, risk management, and turtles to be successful."
John DuBard works full time managing his company, which now has about 100 employees in thirteen states. ASD has been awarded multiple prestigious awards, including some recent ones from Inc. Magazine, the FSU Jim Moran Institute for Global Entrepreneurship, and was just honored for the Seminole 100 (a list of the 100 fastest-growing businesses in America owned by FSU alumni).
Yet, DuBard still finds time to teach classes at the College of Communication and be an active member in his community. Throughout his career, he spent twenty years voluntarily coaching youth baseball, football, and soccer, wrote a full length musical comedy with fourteen original songs and three new arrangements (performed in Thomasville), and continues to take voice lessons to become a classically trained singer.
DuBard's business was already growing and successful when he was obtaining his Ph.D. in Communication; therefore, earning it wouldn't lead to an increase in revenue or profit. "Earning a Ph.D. in Communication was a task I wanted to complete and I was determined to do it. I feel fortunate that I was able to study several topics of interest and incorporate my dissertation research into a company computer project."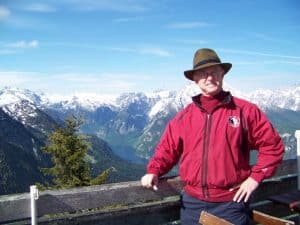 DuBard is responsible for founding the FSU Project Management Center and the FSU Graduate Certificate in Project Management. His commitment to learning, life-long prosperity, and devotion to multiple fields is an inspiration to all of the communities he has and will continue to touch.