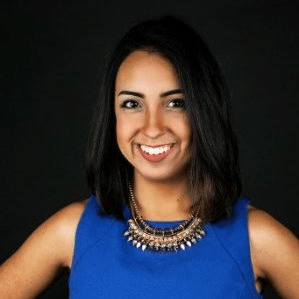 Lissette Calveiro (B.A. '14) has always had a passion for storytelling. After turning that passion into a reality by graduating from FSU with a B.A. in Public Relations and Leadership Studies after only two years, she went on to obtain her current position at Max Borges Agency and Contributing Writer roles at publications including The Huffington Post.
"After exploring the career paths one could take, I discovered public relations and immediately became interested in the aspect of telling a story on behalf of people and brands," says Calveiro. "I also became very invested in the idea that we could influence the world – hopefully for good – through communications vehicles."
Though she graduated in record time, Calveiro landed incredible internships during her time at FSU.
"Internships have been vital to the success of my career and professional growth," explains Calveiro. "My first [internship] was working digital communications in the public affairs space in Tallahassee. I also held press internships for the Florida Senate and had a stint in NYC working for Broadway."
It was through these internship experiences that Calveiro earned a role with The Zimmerman Agency, which set the foundation for the jobs that came after.
"I am truly thankful that they believed in young people and gave us opportunities to do real account work at the agency to help us grow," remarks Calveiro.
Calveiro successfully leveraged her experience in both internships and full-time agency jobs to earn her current role as Account Executive for Max Borges Agency.
"At this level, I had a couple of years of experience under my belt already and the challenge was to prove I had the skills to earn an Account Executive role with their team," says Calveiro. "The interview process asked us to create a campaign for a potential client and I wouldn't have been able to do a successful job without pulling from experiences both in and out of the classroom."
Even while taking on her busy life as Account Executive, Calveiro still finds time to pursue her passion for journalism and storytelling through her Contributor position at The Huffington Post. Working as a Contributor and also for Max Borges, Calveiro is continuously seeking out new content with creative ways to frame and communicate.
"As a publicist, we are always thinking of new 'pitch angles' for our clients and I use the same mentality to generate writing material. I keep up with the news, I'm aware of what's trending now, and I try to stay as seasonal as possible," explains Calveiro. "I also strive to find new ways of storytelling through these channels. For example, it may be Pay It Forward Day and instead of telling you about it, I'll tell you 5 new ways to spread generosity in your day-to-day."
In addition to writing and coming up with creative ways to approach ads and stories, Calveiro's job at Max Borges involves a wide spectrum of creative tasks.
"From writing press releases, consulting clients, chatting with media, hosting an activation, sorting through analytics, there is always something new happening in my line of work," says Calveiro. "At Max Borges Agency, we also try to look at PR through an integrated lens, so at times I find myself spending time on more than media relations: digital marketing, content creation, business development, etc."
Calveiro hopes that, in five years, she will be at the upper-mid level of her career, leading and managing a team.
"I work best when I am teaching others, and I hope to be able to work with young leaders in the communications space and help their careers grow," says Calveiro. "As public relations is always changing and evolving, I am confident that in five years I will likely be doing something that is completely different than what I am doing today – and that's what excites me about this field the most!"