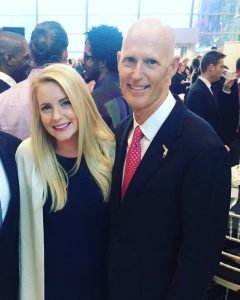 Amy Graham (B.S. '07) has always enjoyed writing and storytelling. She decided that a major in Public Relations would be the perfect way to turn her passions into a career, and she's been taking the world of PR by storm ever since. From securing a position as a press intern in then Governor Jeb Bush's office while earning her undergraduate degree to currently working as a deputy communications director in the U.S. Senate, Graham has found her niche in governmental public relations.
However, Graham didn't always plan on working in government. Her original intention was to go to law school, and she even graduated a year early to do so. It was after getting some work experience in government that she decided that she wanted to stay in the political arena.
She explains, "I got a chance to experience how addicting and rewarding it is to be in a high stakes environment like the Governor's office."
From the Governor's office, Graham went on to work as a spokesperson at the Florida Department of Environmental Protection for nearly three years while taking evening classes at FSU to earn her Master's in Applied American Policy and Politics. After serving as Florida's lead spokesperson following the Deepwater Horizon oil spill of 2010, Graham was offered a position working on then Governor-elect Rick Scott's transition team. Once he was sworn in, she worked for him full-time as his traveling press secretary and deputy communications director.
After working in Tallahassee for so long, Graham decided to make the move to Boston in 2012 after being asked to work on presidential candidate Mitt Romney's campaign. She managed media appearances for Governor Romney and the campaign's surrogates. Following the campaign, Graham moved again to Washington, D.C. to work for Florida Congressman Ron DeSantis and then for a D.C.-based public relations firm. She got the campaign bug again in 2014 and joined the communications team for then Congresswoman Shelley Moore Capito in West Virginia.
Today, Graham lives and works in D.C. as Senator Capito's deputy communications director. Graham works to help the Senator's voice be effectively communicated to the media and to constituents in West Virginia. She ensures that messages get out to the press, plans events and helps advance important pieces of legislation.
Graham shares, "One of my mentors used to say that each day is a new opportunity to succeed. I try to apply that advice by looking for opportunities to help the Senator succeed every day."
It's difficult to predict what's around the corner in politics, so it's nearly impossible for Graham to predict what she'll be doing five years from now. However, she does plan on continuing to get as much experience as possible, building her network of contacts and growing as a communicator. In her spare time, she enjoys sightseeing in D.C., running on the National Mall, going to Nationals baseball games, reading as much as possible and staying up-to-date on Florida politics.
Learning from her previous bosses and mentors like Professor Jay Rayburn, Graham believes strongly in helping others in their personal, professional and educational development.
She says, "We should all aim to be a resource for the younger people at work, share our lessons learned and help guide those who may be in the same position we were in not long ago."
To learn more about the Public Relations program at Florida State, follow this link.