McKinley Lewis (B.S. '13) has never been without a great opportunity under way. Not long after graduating from Florida State University's Public Relations program, Lewis landed a job as the Communication's Director at the Florida Department of Corrections. Just recently, Lewis accepted his new position as the Deputy Communications Director for the Governor's Office. Fortunately, Lewis feels that his experience at FSU and at his previous position at the Department of Corrections has well prepared him for his fast-paced future working directly for Governor Rick Scott.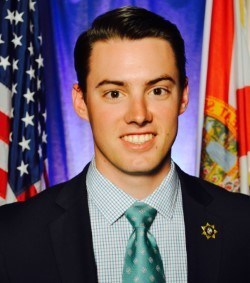 "On any given day, our team could be focusing on healthcare, education, mental health or criminal justice reform – all issues which are gaining more and more attention in the public eye," explains Lewis. "As Deputy Director for Governor Scott, I am expected to understand and be able to clearly communicate the issues facing the more than 20 million residents and 100 million people who visit our beautiful state each year."
His drive and inspiration for reaching such success so early in his professional career spurred from a class project he completed for his Public Relations Techniques course that he took during his time at FSU.
"Among other things, the PR Techniques course required students to work in teams to develop a comprehensive communications plan for the City of Tallahassee Utilities," says Lewis. "This project was my first experience working with government and seeing firsthand the challenges associated with educating the public on the issues facing our communities. It is safe to say that my work on that project sold me on a career in public service."
Similarly to the class project that inspired his career path, Lewis's tasks as Deputy Communications Director will focus around the articulation of a wide range of issues for the education of the public.
His goal is to effectively educate the public on what Florida is doing to become a national and international leader in job creation, education, and public safety. Perhaps most of all, Lewis is looking forward to this opportunity to work directly with the Governor to meet each of these goals.
"I am incredibly excited to work with Governor Scott as he continues his work to make Florida the best state in the nation to raise a family, get a great education, and secure a well-paying job," remarks Lewis. "I feel blessed to have the opportunity to work side-by-side with our Governor and learn from him and his great team."