Rachel Skibicki (B.S. '14) always knew she wanted to work for a company that focused on giving back to the community, a virtue instilled with her during her time studying Information Communication Technology at FSU.
"FSU provided me many opportunities to lead, grow, and give back to the community," explains Skibicki. "Many of my leadership experiences such as serving on the Panhellenic Recruitment team and taking the CCI leadership class provided me those chances to reall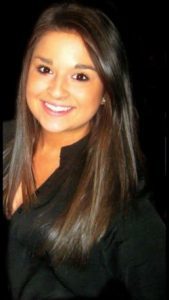 y learn about myself, my style of leadership, and how best to use your strength as well as others strengths to create high performance teams."
Skibicki continues her leadership and charity through her position at Chick-fil-A.
"Chick-fil-A runs foster homes, youth outreach programs, and participates in various charities hands on along with many other opportunities through the Winshape Foundation which is run by CFA," says Skibicki.
Now, Skibicki serves on the Chick-fil-A One Digital Experience team as the menu management and digital ordering support lead; the team is accredited with the development of the new CFA smartphone app.
"My favorite part of serving on this team has been the people, this is on of our biggest cross functional projects at CFA currently," remarks Skibicki. "Members from almost every part of business have come together to make a once dream into a reality. It is amazing to see what spectacular work comes out when you put so many different bright, inspirational, and creative leaders into one room."
The CFA Digital Experience team meets once a week to refocus on their goal, "When you know someone's story, you can care for them personally." Skibicki believes in the weekly meetings, expressing that they act as a driving force for one of the most innovative projects she has ever had the privilege of serving on.
Although her experience has been positive, she has experienced some difficult times with her team. According to Skibicki, one of the most challenging aspect of being a part of the team was learning that it is okay to make mistakes and "fail."
"Our team was moving at such a fast pace, and being agile meant trying knew things along the way. Sometimes they worked, and sometimes they didn't," explains Skibicki. "I had to learn that when they didn't it was okay to keep moving and just try something else. It's the bumps along the way that make you stronger, and ultimately lead to finding something you may have thought would fail, but end up being amazing changes."
The bumps have made Skibicki stronger in her position at CFA, and inspire her to continue working hard for the company she loves.
"I would love to continue to work in customer facing technology at CFA and continue to be a part of the new experience for customers in our restaurants as it continues to grow and change with the waves of technology and creative innovation"