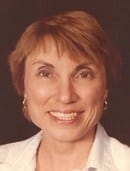 Ann M. Conn received a Master's Degree in Speech Communication from Florida State University, a Bachelor's in English from FSU, and graduated from Leon High School in 1951. Although she passed away on December 14, 2018 at age 85, Ann Conn's legacy as a freethinker and artist will live on in the hearts of those that knew her.
Ann was a founding member of St. Paul's United Methodist Church and a longtime member of the Unitarian Universalist Church of Tallahassee. She participated in Toastmasters International and Gulf Winds Track Club. According to those that knew her, Ann was a renaissance woman in her many interests which included nature, history, civics, social justice, archaeology, photography, playwriting, art, science, humanism, and the search for meaning.
Her family recounts some of Ann's adventures that showcased her fearless spirit such as traveling from Tallahassee to Los Angeles alone when she was 16, camping alone in the Apalachicola National Forest seeking solitude, and raising four teenagers on her own while teaching underprivileged students in both Florida and Georgia.
"My mother was very proud of her degree," says Ann's daughter Nola Conn, "What impresses me most, in addition to her excellent writing and alternative thinking, is the fact that she got her masters degree while raising four teenagers alone on a $5,000 per year salary in 1975. We all miss her very much."
For Conn's master's thesis, she decided to write a play. Nola Conn expresses her desire to come through on a promise she made to her late mother many years ago. "I promised her that I would produce it one day. It was produced once at the Unitarian Church of Tallahassee as part of her degree but had not been read again until very recently. I put together a cast and we had a reading of the play two weeks ago. Everyone loved it and we all agreed that it is timely, timeless and deep.  It has the unusual name of 'Three Dog Day: the Hounds of Hell,' and is about a chance meeting between two historical people from different time periods, of different gender and race—Sojourner Truth meets Miguel de Servetus in a tobacco field in the 1960s. I have enlisted two professional actor/directors who have agreed to direct it as both a play and a film."
Her obituary observes, "Ann was a master of the English language, profound wit, devoted mother, steadfast friend, published author, effective educator and will be long remembered and forever loved."
You may read her full obituary here. The College of Communication & Information extend their warmest sympathies to Ann Conn's family and friends and wish her loved ones peace during this difficult time.