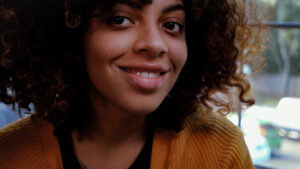 Rheannah Wynter (pictured left), a 2021 graduate of the Digital Media Production program in FSU School of Communication, received an award for her documentary Unshopping in the 26th Annual Palm Beach Student Showcase of Films (SSOF) in late May. Wynter placed in third for the College Feature/Short Awards category, which included a $1,250 prize.
SSOF is Florida's largest student film competition and award show open to both Florida college and high school students. This year, finalists were selected from 260 eligible entries in 12 categories. The winners were announced in a virtual Facebook show and featured congratulations from a few television stars. Watch the full show here.
"Rheannah worked really hard on this documentary. She did every single aspect of it herself, from the filming and editing to appearing on camera," said Malia Bruker, Digital Media Production Program Area Coordinator and Associate Professor in the School of Communication. "This was a very difficult year to make films, but Rheannah found a way to create an important, engaging, and entertaining documentary. It's one of the best films I've seen our students produce, and for it to have been made during the pandemic speaks to her talent and drive."
In a recent interview, Wynter shared her experiences and more information about the documentary:
What ultimately led you to create this film?
Before I even knew that I'd be making this film, I knew that I needed to minimize my possessions. Having been locked in my apartment for months, I'd become overly-acquainted with just how much I owned. A majority of it was clothing, and a lot of that clothing I rarely wore, if I remembered purchasing it at all. So, it became a personal crisis for me, where I was totally unaware of my consumption habits until I was collecting trash bags on trash bags of items I didn't want or need. It was a massive source of guilt. I only started researching how I could absolve myself of it when I was tasked with making a personal narrative documentary. The amount of compelling material about fast fashion, both the research against it and the greenwashing that disguises it, got me invested. But ultimately, the trash bags were central to creating the film. They were the manifestation of my questions about guilt, and they were the motif I built the entire film around.
What was the experience like to create this film on your own?
For the most part, making a film on my own was taxing. It was physically difficult to be behind the camera and in front of it at the same time. I was setting up shots, lighting myself, checking the monitor, performing, watching playback, and then doing it over again until I got it right. And when you're the only person on set, deciding when you "got it right" is a lot harder. It's a lot of self-critique. Ultimately, getting one shot done took three times longer than it would take with a crew. And because I was shooting in my bedroom, I was living inside of this process almost all the time.
On the positive side, that meant I filmed whenever I wanted to, which always happened to be at 3AM. The process could be as fluid as I wanted it to be, with new shots and script changes added to the film as soon as they came to mind. For better or worse, the film is representative of me. I was as weird as I wanted to be and could experiment where I wanted to experiment, and there's a lot to learn about yourself in doing that.
Did you face any challenges/obstacles creating this film during a pandemic? Any challenges not related to the pandemic?
The isolation brought on by the pandemic was a big challenge for me. The classroom community is hugely important in a way I probably took for granted before the pandemic. Just being able to screen projects and discuss progress can provide a lot of perspective, but even going into the classroom and seeing friends and having conversations can give you that much-needed space from the filmmaking process. I never fully got space from the film (especially since I lived on set), so I was emotionally spent by the end of it.
What does placing in this festival and winning an award mean to you?
This award validates a lot of the skills I've studied over the past couple of years. Being selected to screen at a festival and placing in it is, on its own, a rewarding experience. But when you're the sole director, cinematographer, and editor going up against films that have full crews, being selected says a lot. I've never genuinely identified as a "filmmaker," but it's hard to avoid that now, and I think that change in perspective is a positive thing.
Have you submitted to any other film festivals?
Alongside being selected and placing at The Palm Beaches Student Showcase of Films, I was selected for CineYouth Film Festival and the National Student Production Awards. I've submitted to Hellbender Student Film Festival, LA Student Film Festival, Orlando Film Festival, New Renaissance Film Festival, and the Student Academy Awards.
Congratulations on this award, Rheannah! Watch Wynter's film Unshopping here.