Ariya Massoudi (Digital Media Production '17) recently joined ESPN and the ACC Network calling play-by-play in live games.
Massoudi, who originally came to FSU to study biology, shifted his focus halfway through his college career. "I realized while I was at FSU that the medical field wasn't for me," said Massoudi, "but I always loved sports and I loved knowing the stories behind the players. My junior year I decided to give [broadcasting] a shot."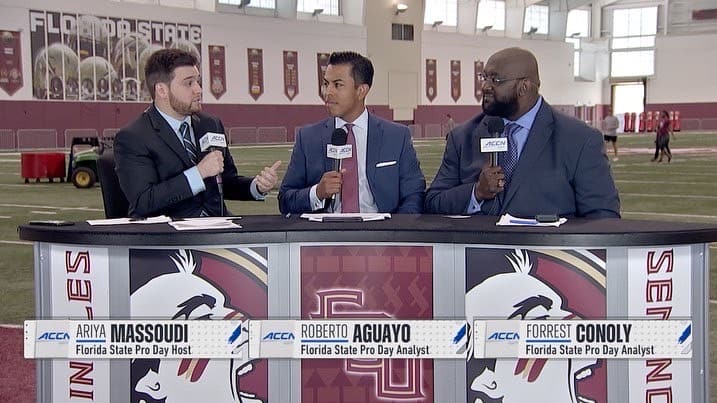 He started at WVFS Tallahassee (also known as "The Voice of Florida State"), where he hosted their sports radio show, Tomahawk Talk. He considers it one of the best decisions he ever made, as it gave him some of his first experiences as a reporter.
"After that, I decided to volunteer for Seminole Productions. I had no experience with live productions; I was holding wires and delivering water to the talent. And I remember the day when my boss called and said, 'My other reporters are out. I've got nobody else. This is your shot. Show us what you can do.'"
From there, Massoudi began reporting on live games, and eventually became the voice of the Florida State Women's Basketball team, which he has been for the past five years.
Now, Massoudi has been added to the ACC Network's roster of reporters, and will be covering soccer games throughout the country, as well as other sports when talent is needed.
"I'm thankful to FSU and Seminole Productions for letting me follow my dream and helping me build the foundation I needed for this new opportunity," said Massoudi.
His advice to young broadcasters, and to students in general, is to "Treat every game like it's your national championship. Whatever opportunity you get, treat it like it's the most important moment of your life."
In the future, Massoudi hopes to one day become one of the main voices of college football or college basketball, or to move to the pros as a voice for the MLS or NBA.
To learn more about Ariya Massoudi, visit his website here.