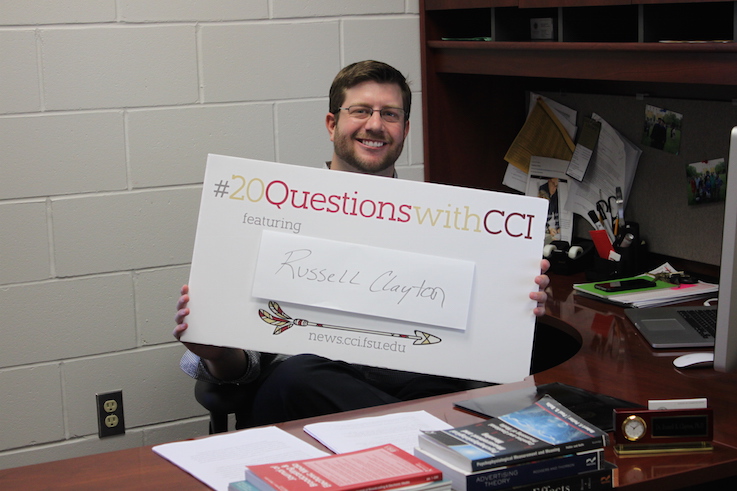 What was your first job?
I worked at a Hospital as a record filer. It was riveting work. (hint of sarcasm).
If you were to write a personal memoir, what would you name it?
"Riding a gravy train with biscuit wheels."
Where did you grow up?
Sweetwater, Texas. You likely have never heard of Sweetwater. It is in west Texas; "where the wind blows and the oil flows, y'all."
What is your favorite class you've taught?
Introduction to Mass Media has been great. I am looking forward to teaching Research Methods, Media Effects, and Psychology in Advertising (soon)!
What is your favorite place to grab dinner in Tallahassee?
I have several favorites. I probably would have to go with Cypress for a date night (with my fiancé, Dr. Jessica Ridgway who works in the Retail, Merchandising, and Product Development (RMPD) department here at FSU). For a quick lunch, though, I would probably go with Vertigo.
What are your hobbies outside of work?
Spending time outdoors such as kayaking or hiking, watching and playing sports, live music concerts, and enjoying the company of friends and family.
Have you always wanted to teach?
Not always. I became involved in teaching when I was hired to be an undergraduate teaching assistant for a statistics course. One of the great rewards of teaching, which I realized then, is seeing the "ah ha" moment with students. It is the best!
What is your favorite place you've traveled to or where would you like to go?
The Czech Republic is stunning. Germany and Ireland are wonderful as well. I would really like to visit New Zealand.
How many football games have you attended?
Two, but there will be many more. Go Noles! But also Go Tigers and Go Bobcats!
Proudest career/life moment?
Keeping my fingers crossed that I haven't reached it yet.
What's your favorite band?
I have a very eclectic taste when it comes to music. James Bay, Josh Abbott Band, Sean McConnell, and Boy & Bear to name a few.
What is the best piece of advice you've ever received?
Worrying is like sitting in a rocking chair — it gives you something to do but gets you nowhere. So quit worrying, keeping working hard, and the rest will take care of itself.
If money were no object, how would you spend your days?
I would probably still research. It is my passion. There are too many questions that I want/need to help answer.
What is your favorite book and why?
Too many to count. My favorite novel, though, is probably Metamorphosis by Franz Kafka. Check out the Franz Kafka Museum in Prague if you ever have the opportunity.
If you could be famous for something, what would it be?
I am not really interested in being famous. But to answer the question: being able to correctly load the most amounts of dishes in a dishwasher. There has to be a Guinness World Record competition for this sort of thing, right?
What Jeopardy category could you clear, no problem?
Quotes from Will Ferrell and Vince Vaughn.
Do you have any pets?
Yes. We have a rescue Boxador (Boxer/Labrador Retriever mix). Her name is Wimberley. We also have an American Paint Horse. His name is Zephyr.
When did you start working at Florida State University?
August 2015.
What was the last movie you saw in theaters?
The Great Gatsby and Wolf of Wall Street. It has been awhile since I went to a movie. Maybe I am due.
What is the best part about your job?
Being able to interact with brilliant students and wonderful colleagues.