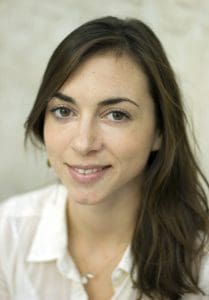 Assistant Professor Malia Bruker screened her film, V/IRL, at International Film Festival Rotterdam (IFFR) this past January in Rotterdam, Netherlands. This film was also awarded Best Short Documentary by Chicago Underground Film Festival and chosen as an official selection for Berlin Feminist Film Week, Tallahassee Film Festival, and more.
International Film Festival Rotterdam is currently in its 49th year and offers a high-quality line-up through its meticulous selection of films by emerging talented filmmakers. The festival had over 300,000 visitors this year with 340 films screened throughout the course of the festival.
Working primarily in the realm of documentary, Bruker's films skirt the boundaries of non-fiction, drawing from artists' moving image, dance film, and other experimental genres. In similar style, V/IRL explores the post-internet art of Lena NW, a self-proclaimed feminist nihilist, by combining elements of traditional documentaries and virtual surrealism to comment on the artist's themes. Her film was part of The Eyeslicer series which was programmed at Rotterdam for the second year in a row. This series is a "variety show" of experimental and avant-garde film and media from the latest generation of American artists.
Attending festivals is great exposure for filmmakers as it allows their work to be viewed by industry and press attendees. "IFFR was an amazing opportunity," says Bruker. "I saw so many great films and got to meet filmmakers from around the world. It was really an honor to show my work there."
In addition to V/IRL, Bruker's films have screened at Athens International Film and Video Festival, Sarasota Film Festival, Philadelphia Film Festival, Antimatter Video Art, and Chicago Underground Film Festival.