Dr. Theodore (Ted) Clevenger Jr., the first Dean of Florida State University's former College of Communication, was posthumously awarded a Distinguished Scholar Award from the National Communication Association (NCA).
Clevenger was nominated for the award by College of Communication and Information (CCI) Leadership Board member and Professor of Communication Emerita Marilyn Young. The award was presented on November 19, 2022, at the NCA Conference in New Orleans. Many of his family members were in attendance.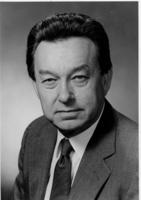 "Ted embraced the growing interest in mass media as worthy of scholarly attention and helped introduce intellectual rigor into considerations of the media and their impact," said Young. "The quantity, quality, and influence of Ted's scholarship stands the test of time."
Though he passed in 1995, Clevenger's legacy lives on at CCI and throughout the field of Communication. Few people are more familiar with that legacy than the Theodore Clevenger Professor of Communication Dr. Laura Arpan.
"It is a daily honor to share a title with such a groundbreaking, prodigious, and benevolent scholar," said Arpan. "Dr. Clevenger's work lives on in almost everything we do at Florida State and indeed, across our discipline."
A pioneer in his field, Clevenger laid the groundwork for the majors and curriculum available within the School of Communication. By the time he retired in 1993, he ranked fourth on the list of active Communication researchers, with three authored books and over 70 scholarly articles under his belt.
"His leadership in the field of Communication during his career helped build the national and international profile of the former College of Communication from the 1970s to the 1990s," said Dr. Stephen McDowell, Interim Dean of CCI. "This is reflected in our continuing commitment to high standards and the pursuit of excellence in research, teaching, and service across the current College of Communication and Information."