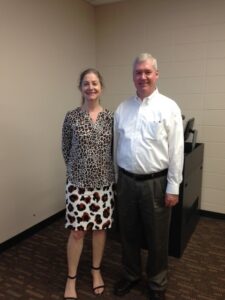 Florida State University School of Information (iSchool) Professors Drs. Melissa Gross and Don Latham received the 2021 Best Conference Paper Award from the Association for Library and Information Science Education (ALISE). Their paper titled "Is There a Social Worker in your Library?" explores the benefits and drawbacks of having social workers on-site at public libraries and paves the way for future research regarding this topic.
"We were surprised and thrilled when we heard the announcement," said Dr. Gross. "The research stream is very important to us as it has the potential to affect so many people as well as the future of the profession. Winning the best paper was an affirmation that others see the importance of this line of inquiry also."
The paper reports on a survey of public library administrators in a Southeastern state. Using Qualtrics to create the survey, Drs. Gross and Latham sought to collect baseline data on the employment of social workers in public libraries.
"The public library has traditionally been at the forefront of social justice issues and has always been on the front lines in helping people who are dealing with homelessness, including homeless veterans; food insecurity; affordable legal help; access to the Internet for individuals and families; accessible adult education programs, and more," said Dr. Gross. "Public libraries are a source of resilience for many people. In crafting a robust future for the profession, issues of social justice and critical librarianship lead us to consider how we can best serve our constituencies and provide empirical data for decision making, improving the education of information professionals, and supporting leadership initiatives."
The study found that amongst its respondents, only six social workers were employed by the public libraries. Many administrators were interested in hiring a social worker in the future; however, despite the benefits of adding the role, there are concerns about funding, licensure, and liability.
"It is important to remember that librarians have been helping people find the information and resources they need to overcome personal challenges since the inception of the profession and will continue to do so," said Dr. Gross. "Whether the employment of social workers is a way to enhance library services further is an experiment that needs to be tracked, especially in a time when many people have been overwhelmed by fallout from the pandemic and other social ills."