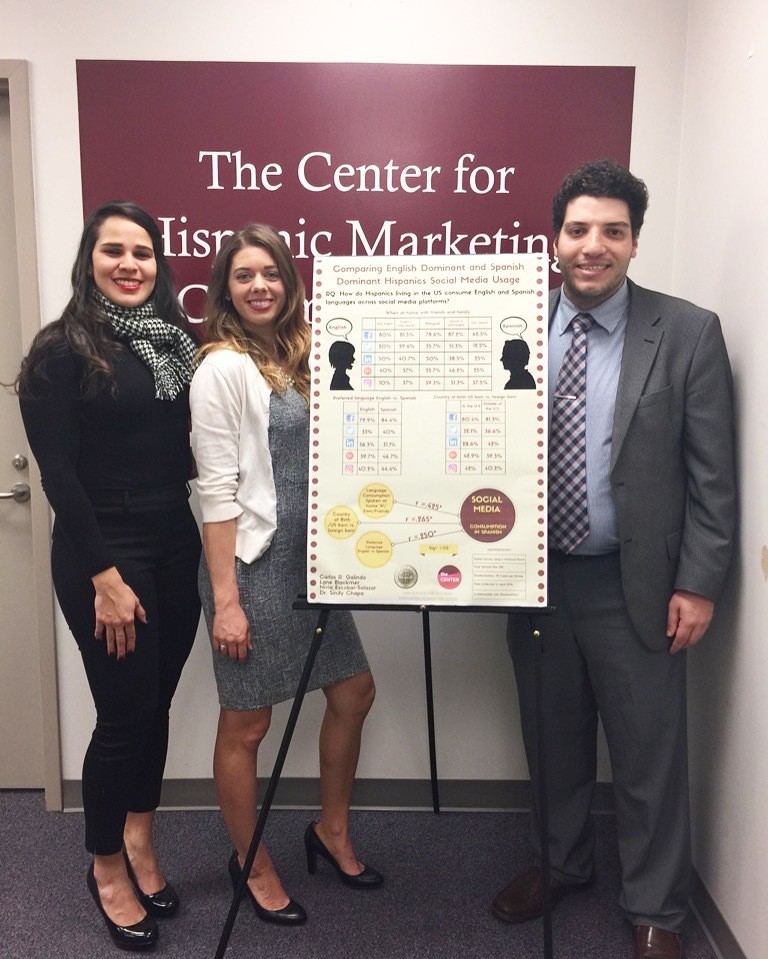 Thirteen CCI undergraduate and graduate students will present their research on U.S. Hispanic consumers at this year's Hispanic/Latino Media & Marketing International Conference at California State University in Fullerton. The students have been conducting research projects to gain valuable insights into the fastest growing consumer segment in the United States: Hispanics. Their studies are conducted under the guidance of  Florida State University's Center for Hispanic Marketing Communication, a co-sponsor of the conference.
The presenters and their topics include:
Sydney Brown and Crystal Salvador-Zapote: Factors influencing high-involvement purchase decisions among Hispanic Millennials
Xiang Tang and Eliza Mengying Shang: Modeling the effect of language on Hispanics' online shopping behavior
Alejandro Estrada and Eliza Zhang: Exploring the impact of implicit and explicit product placement techniques on the Hispanic audience
Lane Blackmer, Nivia Escobar and Carlos Galindo: Comparing Spanish-preferred and English-preferred Hispanics' social media usage
Shannon Berigan and Gabriela Oliveira: Latino media consumption habits
Maria Fernanda Bayona: Hedonic vs. utilitarian coffee consumption across cultures
Alexandrea Smith: Motivational factors impacting Hispanics' attitudes toward skin care
Since its inception in 2004, The Center for Hispanic Marketing Communication has been a pioneering academic program bringing together students and professionals to further the field of Hispanic marketing and advertising in the U.S.
"Dr. Sindy Chapa and the center have prepared hundreds of students and professionals who have demonstrated a passion for the Hispanic market, and the opportunities it presents for companies, organizations and government institutions that need to connect with this market segment," said Lawrence Dennis, dean of the College of Communication and Information.
"In the decade since Dr. Felipe Korzenny founded this program, faculty and students have worked tirelessly to conduct ground-breaking research and serve as an innovative resource for the Hispanic marketing industry."