The FSU Students & Technology in Academia, Research & Service Alliance (STARS) organized a trip to Tampa with Associate Dean Ebe Randeree April 3rd through 5th for eight students in the College of Communication & Information. The STARS members in attendance were Joey Cardenas, Kelby Mahoney, Lydia Clark, Martin Sung, Megan McGilvray, Miciaha Ivey, Zaymeen Deen, and Maria Knight.
The CCI students were ready to rise and shine for the high schoolers of East Lake on Monday morning to talk about the college experience. Questions ranged from what majors FSU offers to on-campus dining choices. The high schoolers weren't holding back, and the CCI students were more than ready for their inquisitiveness. Four classes and two hundred students later, the STARS students escaped to Dunkin to relax and refuel.
Lydia Clark, a freshman in the Communications PR program, was in these high schoolers' shoes only a year ago. Clark says she automatically knew she wanted to be a part of the organization when STARS visited her school. "Seeing hard-working, driven college students that were passionate about what they were studying and equally as passionate about Florida State and helping students learn more about the college experience was eye-opening to me," she said. Clark admitted she was nervous to have the roles switched when she was the one speaking that Monday, but once she started talking about the programs and opportunities at FSU she remembered why she fell in love with the university when STARS visited her.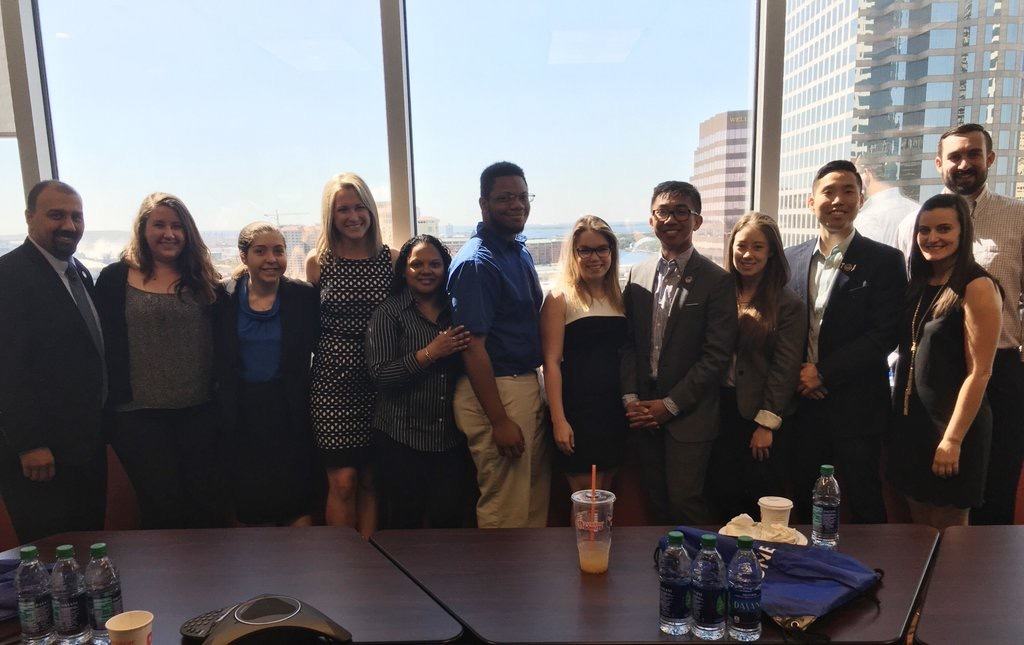 Later that afternoon the Noles headed off to Nielsen, a global research company that gathers data on consumer practices. The building was elegant and modern, sprawled out across a well-kept nature preserve. Recruitment employees spoke with the students on Nielsen's global impact and commitment to local communities. The Nielsen crew had to be careful with everything they could share, though. With their up-and-coming research programs and products, the students were enticed by the idea of working on discreet, innovative projects.
According to Associate Dean Ebe Randeree, "Nielsen has been recruiting at FSU and CCI, hiring a few summer interns into their leadership program as well as some full time students in the past month." Randeree went on to say, "The company is growing in mobile tracking, predictive analytics and social data analysis – with great opportunities for our current students."
The night was spent in Ybor City, dining at the Columbia Restaurant with FSU alumnus Walt Bower and his wife. Bower graduated from CCI with his IT degree in 2008 and his MLIS in 2010. He now works as a Software Manager for Maglio, Christopher & Toale, P.A. After a successful meal, directions back to the hotel somehow landed them at an IKEA. They had just enough time to enjoy the Swedish sofa beds and get temporarily lost as they searched for the exit.
Tuesday morning began with a visit to Sunera, a cyber risk management consulting firm based in downtown Tampa. The STARS students heard from company co-founder Andrew Cannata on the diversity of cyber-risk research and the emphasis Sunera puts on employee well-being. Yong-Gun, Sunera's CEO, wrapped up the discussion and provided them with his one ideal in life: to wake up every day without an alarm clock. The CCI students were impressed by Sunera's commitment to hard work and its employees.
Miciaha Ivey, a junior studying Information Technology, said Sunera stood out the most to him. "Not only were the people there rich with smarts, they were also fun to talk to and involved in the community," said Ivey.
This was Ivey's first trip with the STARS Alliance. "It was cool being surrounded by smart, motivated students who also knew how to have a good time, and that made all the difference," said Ivey. "I learned so much, not only about the companies visited, but about myself and where my passions lie."
The last company tour was with J.P. Morgan & Chase, an American multinational banking and financial services company. The recruitment team was joined by FSU alumni who all graduated from the College of Communication & Information. They shared what it was like transitioning from college life to company work, admitting it can be tough at first but rewarding in the long run.
Kelby Mahoney, STARS student and President of WISE, will be interning with JP Morgan this summer. JP Morgan has been "a solid FSU partner in the past" according to Randeree. The company is in the process of hiring more IT graduates, and in the past two years there have been ten FSU CCI graduates hired.
Taylor Seybold is one of these graduates. She graduated from FSU with a degree in Information Technology. Seybold was happy to share with the STARS students what life has been like since she graduated in 2015 and started her career. She said she felt prepared for her transition into the workplace thanks to her time with CCI. "Trips like these are great stepping stones to see what it is like inside major companies," she explained. "Networking is extremely important in college and doesn't stop once you join the workforce."
This was the last STARS trip for Campus Girl Scouts President Megan McGilvray before graduating later this spring. After being a STARS member for nearly a year, she reflected on her meaningful experiences with the group.
"Every trip I've been on has helped me grow a little bit more as a student and as a person," said McGilvray. "The relationships I've formed with like-minded and goal-oriented people within this organization have encouraged me to be the best I can be. This being my last trip, I will miss the outreach opportunities, and most of all the people." McGilvray is going on to work for State Farm in Atlanta as a technology analyst.
The students on this networking trip are all dedicated to collaboration and outreach, both within CCI and throughout the community. STARS students have a passion for leadership on campus, speaking with high schoolers about opportunities at FSU, and networking with companies across Florida. To learn more, find them online or follow them on Twitter @StarsFSU.