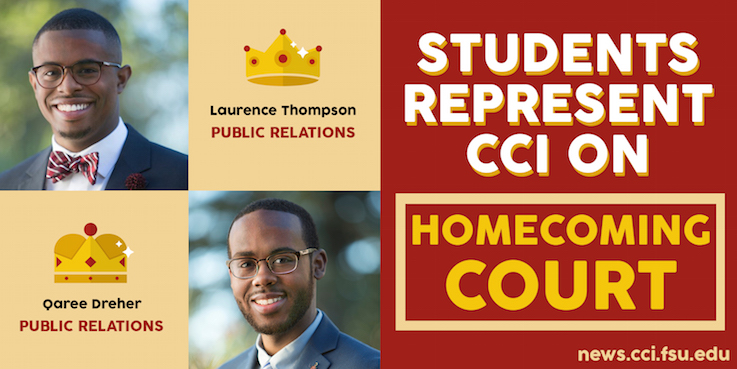 Two College of Communication & Information students have been selected to be on Homecoming Court this year. Laurence Thompson and Qaree Dreher are both Public Relations students with a passion for communicating.
Laurence Thompson
Laurence Thompson is a senior at FSU with a passion for intellectual challenges. He was attracted to the Public Relations major for its emphasis on written communication, exclusivity as a major and sense of community.
He explains, "The PR major has met my expectations and provided me with amazing experiences that have increased my love for the profession."
After graduation, he plans to attend law school in either New York or Washington, D.C. He then hopes to find a profession that strikes a balance between practicing public relations and using his law degree within a major corporation, non-profit or large PR firm.
In his spare time, Thompson enjoys trying new restaurants, mentoring students on campus and catching up on some of his favorite TV shows.
Qaree Dreher
Qaree Dreher is a senior at FSU who feels invigorated by community service and development. He chose Public Relations as a major because of its focus on building and establishing credibility and authenticity to improve relationships.
He says, "Community service always made sense to me, but it was at FSU that I began dedicating myself to agencies such as the United Way of the Big Bend to make more of a targeted impact within the community."
Post-graduation, he wants to work to help citizens feel like their interests are reflected within public spaces. He is currently completing an Honors in the Major with Dr. Patrick Merle Merle analyzing Tallahassee's brand and learning more about the quantitative research that is a major component of public relations.
When he has time, Dreher enjoys adventuring throughout Tallahassee and its many trails, as well as exploring local breakfast and coffee shops.