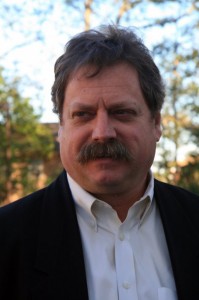 Dr. Steve McDowell, professor in the School of Communication, Associate Dean and advisor for students in the Undergraduate Research Opportunities Program (UROP), has been awarded the 2016 Undergraduate Research Mentor Award. The award acknowledges and honors faculty members who have significantly contributed to the enhancement and quality of education at Florida State University through their direction and advisement of undergraduate activity in UROP.
McDowell has been mentoring students through UROP since 2013 and has worked mostly in analyzing media coverage of conflict and political events in south Asia. He encourages his undergraduate researchers to think about their personal interests and goals and then asks them to consider how to translate those into a research project that can also help develop their skills.
McDowell shares, "The experience has been especially enjoyable because of the high quality and the aspirations of the undergraduate students who are attracted to the program."
Additionally, McDowell is the chair of a steering committee that hosts the annual South Asia Media and Cultural Studies Conference. This event has allowed undergraduate and graduate students to present their work and to report on international research projects. He also leads two undergraduate courses in the School of Communication each year that include major independent research projects. Several of his students have gone on to present their final research findings at conferences and university venues.
McDowell will accept the Undergraduate Research Mentor Award at the faculty awards night dinner event on April 27 in the Alumni Center.
To learn more about UROP at FSU, follow this link.