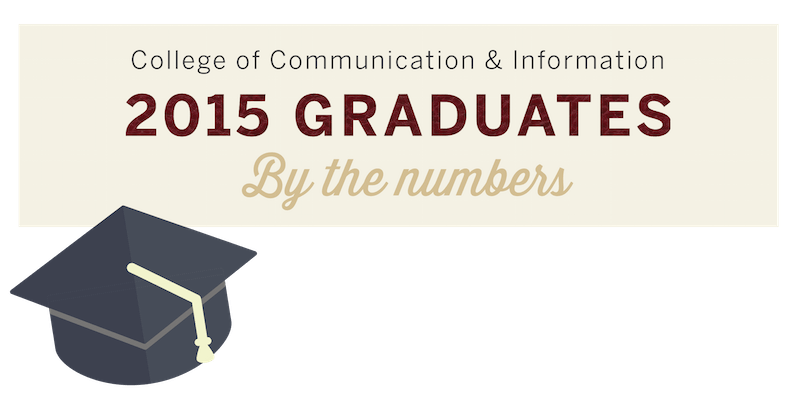 2015 was a monumental year within the College of Communication & Information (CCI) at FSU. For the first time, an undergraduate graduating class in the School of Information was equal numbers male and female students. The milestone followed the increasing trend of women breaking into the tech scene.
During the 2015, each semester graduated its own groups of CCI students, all together totaling 831 graduates. More information on CCI graduation, by semester, by degree and by school, below.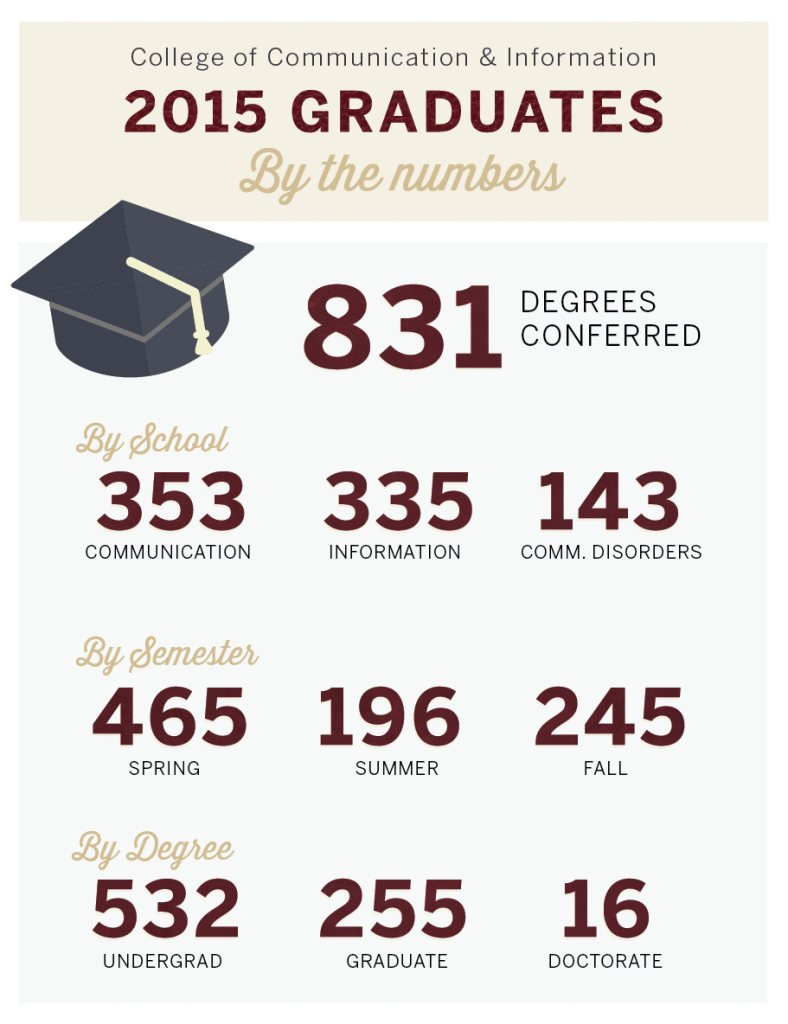 BY SCHOOL
The College is comprised of three schools: Communication, Information, and Communication Science & Disorders. About 42% of graduates come from the School of Communication, which offers undergraduate degrees in Advertising, Public Relations, Media Communication Studies and Digital Media Production. On the graduate level, their programs in Integrated Marketing Communication and Media Communication Studies are popular amongst budding industry professionals. Close behind with 40% of CCI's graduates is the School of Information, which offers an undergraduate and graduate program in Information Technology, an undergraduate program in Information, Communication Technology (ICT), and additional graduate programs in Information. The School of Communication Science & Disorders boasts one of the most competitive undergraduate and graduate programs in at Florida State and has faculty that is routinely applauded for their dedication and passion for speech pathology.
BY SEMESTER
Of 831 graduates, more than 55% graduated during the spring semester. As students continue to take control of their own education and take unorthodox paths, spring semester remains the most popular semester to walk across the stage. Roughly 30% of graduates walked in Fall and the remaining students graduated in summer.
BY DEGREE
Undergraduate education makes up the bulk of CCI's 831 graduating students, 64% of graduates left FSU with a Bachelor's degree. Graduate degrees are becoming increasingly necessary in today's job market. Roughly 30% of graduates left with a Master's degree and 2% graduated with a doctorate degree.