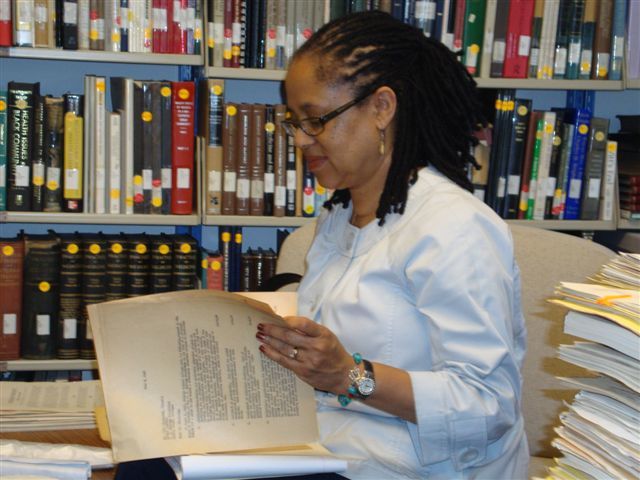 Alumna Sandra Phoenix (M.S. '07) shines when she has a close connection to her work. That's why non-profit and social services interests her. She's combined that passion with her passion for library science as the executive director for the HBCU (Historically Black Colleges & Universities) Library Alliance. Dedicated to developing library leaders, preserving collections and planning for the future, the organization cultivates leadership within member institutions, supports an extensive digital collection, seeks collaborative opportunities to address members' needs and hosts continuing education opportunities by experts in the HBCU Library Alliance community as well as the broader academic community.
Phoenix begins each day by connecting members to information about HBCU achievements, issues and opportunities through listservs and social media. Her position entails both strategic and operational management of a non-profit, collaborative membership organization, from project planning and implementation through Board engagement and advocacy.
She shares, "The MLIS degree has provided me with knowledge and skills to impact and influence decisions related to the strategic initiatives of the HBCU Library Alliance. I've used skills from the degree to write funding narratives, conduct research, design library training programs, present conference papers and manage the financials of the organization."
When the HBCU Library Alliance was being established in 2001-2002, Phoenix was working to support the executive director of the library network SOLINET (now LYRASIS). Her interest in the organization grew and inspired her to learn more about librarianship. She went on to earn her MLIS degree in 2007 and assumed her role as executive director in 2008.
Phoenix's involvement with the HBCU Library Alliance has helped bring the organization great success. She and her colleagues have received funding through numerous grants to pursue leadership development, mentoring programs, internships, digitization initiatives and preservation projects for HBCU special collections. She was recently approached by the Journal of Library Administration to write an article on the results of a research project funded by the Andrew W. Mellon Foundation on "Expanded Library Support for Faculty Research." She is also helping to plan the organization's 7th biennial membership meeting and leading the effort to undertake a major fundraising campaign.
When she isn't busy helping strengthen HBCU and its constituents, Phoenix enjoys spending time with her two rescue dogs Lilly and Sissy, working in her vegetable garden and reveling in the message of the Djembe drum.
To learn more about the MLIS program at Florida State University, follow this link. Additionally, you can check out the HBCU Library Alliance's news source, PULSE!, here, and follow them on Facebook here.