Alexis Carter (M.A. '15) always knew she wanted to work with youth, but she didn't initially see herself in the library field. It wasn't until her sophomore year of college that she knew the library field would become her passion for life.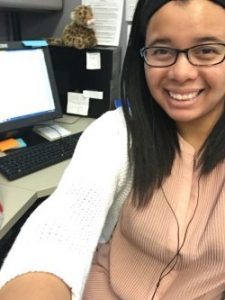 "I was previously on an elementary education track, and during one of my field experiences with a kindergarten class, the school librarian was sick when the kids were scheduled to have story time. I offered to fill in because we were reading my favorite book – The Giving Tree – and had a blast reading to the kids and helping them find books," explains Carter. "Afterwards, the teacher said I had a knack for librarianship and it opened up a field to me that id never considered previously!"
Upon graduating from her undergrad at Gonzaga University in Communication and Media Studies, she began her path to a career in the library field at Florida State's Library and Information Science master's program. It was at FSU that Carter learned how to identify important and popular books for children, as well as addressing children's different learning needs.
"My biggest challenges to date have been dealing with hyperactive children. Classroom management skills are very underrated," says Carter. "I believe it should be its own separate class, so that educators everywhere can learn how to redirect misbehavior. I don't ever want to kick a kid out that wants to be involved but at the same time I need [to maintain] a healthy learning environment for everybody."
Though the job comes with its own set of challenges and can be quite stressful at times, Carter never regrets her decision to work with youth as a librarian. Not only is she working with children, as she has always wanted to do, but she is also instilling within them a love of reading in unforgettable ways.
"As cliché as it sounds, my favorite part is being with the kids," she says. "A lot of time goes in to planning programs and getting all the necessary supplies, which can be tiresome, but walking into a room to read to preschoolers and watching their faces light up as you roar with them like a lion makes all the work you put into it worth while."
Carter loves being a Youth Services Librarian, and when asked where she saw herself in the next five years, that love showed in her answer: to hopefully remain working as a librarian with youth as she does now.
"I am currently a Librarian within the Jacksonville Public Library System, and I hope to continue to advance up to the next level (there are four possible levels) within the next five years," explains Carter. "If possible, after that I would love to focus specifically on teens and young adults. Although I love story time with my preschoolers, being able to form a bond and help a teen with school, jobs, and everything in between has been very unexpectedly rewarding."