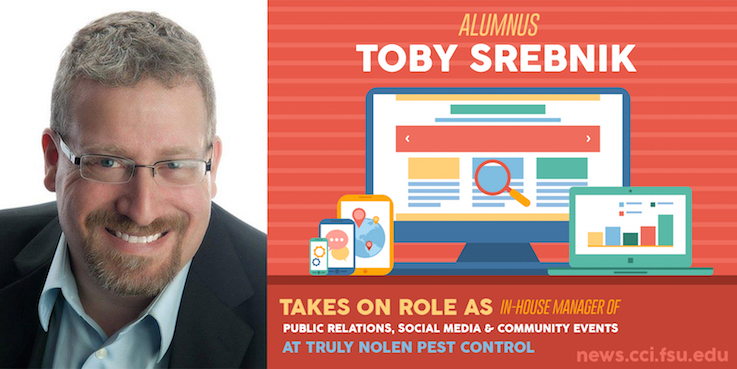 Toby Srebnik (B.S. Communications, '94) is a public relations and social media connoisseur. From being the PR Coordinator at the Palm Beach County Sports Commission to now being the in-house Manager of Public Relations, Social Media and Community Events at Truly Nolen, he has a ton of experience in the field.
Srebnik's career began outside of the realm of public relations. In fact, he didn't get his first PR job until seven years after he graduated from FSU. However, almost immediately after he started working as a PR coordinator, he realized that the field was his calling. Fast forward 14 years later, and Srebnik has truly taken hold of this calling with what he calls his "dream job" at Truly Nolen.
He says, "What has always interested me in public relations is storytelling. Writing is my passion and I love being able to tell other's stories for them. I also enjoy interacting with media and have been fortunate to receive many significant client placements throughout my career locally, regionally and nationally."
As Truly Nolen's first in-house Manager of Public Relations, Social Media and Community Events, Srebnik will be responsible for overseeing the company's public relations and social media strategy and tactics, helping the company gain exposure through local branches' participation in community events. He is based in South Florida.
The position was created by Michelle Nolen Senner, the Director of Marketing and Advertising at Truly Nolen.
She says, "Toby's work in the past and obvious love for our company made him a natural candidate for our newly created position. We're excited to have him as part of our team."
Previously, Srebnik has handled Truly Nolen's Twitter and Facebook accounts, their 2009 Nevada State Insect Contest and their 2010 South Florida #MousecarParade.
When he's not building an organization's social media image or making strides in public relations, Srebnik enjoys spending time with his wife, Sara, of 14 years, his 11 year old son Bailey, and his daughter Riley who turns 8 in December. On Saturdays, you'll find him cheering on the 'Noles, and on Sundays, he roots for the Seahawks.
He advises, "If I could impart one thing to today's students who want to go into a career in PR or Social Media, be sure you enjoy writing. If you don't, neither field is really one you're going to enjoy. However, if you love to write, look for internships that involve writing, create a Twitter account and create a blog where you can express yourself on whatever topics you want. Blog posts may lead to freelance opportunities!"
You can follow Srebnik on Twitter @fsutoby and Truly Nolen @TrulyNolen. Additionally, you can learn more about the Communications program at FSU by clicking here.