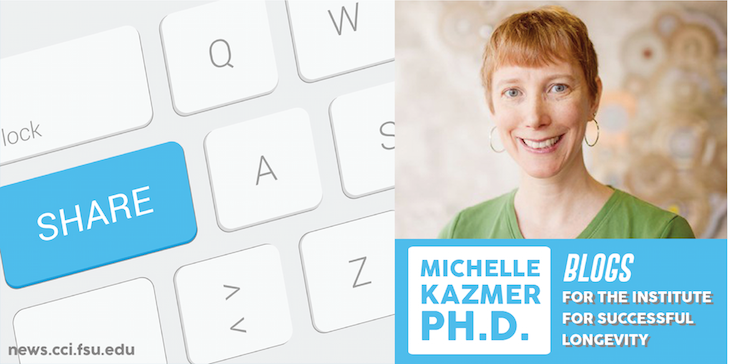 iSchool professor and researcher Dr. Michelle Kazmer recently blogged for FSU's Institute for Successful Longevity. Her blog post addresses the information needs of an aging population.
Dr. Kazmer's post discusses research about older adults' information needs and elaborates on specific key factors that should be considered when designing information services and sources for older adults. These factors include breadth of needs, technology and technology training, religion and spirituality, and interaction and inclusion. When research about older adults' information needs is not considered in the "design of information materials and services for older adults – information is delivered in the wrong medium, and at the wrong time and place."
Dr. Kazmer's research interests lie in the area of distributed knowledge, and her work has included explorations of health knowledge creation and sharing, collaborative e-learning, and studies of science and scientists.
Dr. Kazmer has written many publications, presented her work in various conference venues, and with iSchool Professor and Director Kathy Burnett was co-editor of the Journal of Education for Library and Information Science. Her research has been supported by the National Science Foundation, National Institutes of Health, and the Institute of Museum and Library Services.
As evidenced by her ASIS&T Thomson Reuters Outstanding Information Science Teacher Award, Dr. Kazmer is passionate about both her research and her students.
She says, "My research is really important to me as a scholar, but I am also passionate about teaching and learning from the students whose education and professional preparation are entrusted to me each year."
To read Dr. Kazmer's blog post, click here. To learn more about FSU's iSchool, click here.