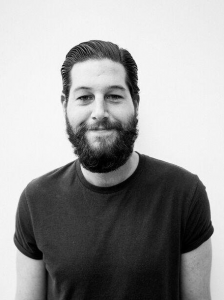 Tyler Bradley (B.A. '13) graduated magna cum laude with his degree in Advertising barely three years ago. Nevertheless, the alum already has an impressive bundle of experience in his hands. From Billboard to Vine to Pitchfork, Bradley is making a name for himself in a myriad of impressive media outlets, particularly in social media.
Bradley explains, "I think social media is super important because it is just another way to say 'new media.' On social, news breaks, celebrities interact, people rally behind causes and a whole new group of talent is cultivated. It is the future and every day it changes, which is why I think I've been part of it and continue to stick around."
One of the biggest things that sparked Bradley's interest in the Advertising program was a documentary called Art & Copy. The influential film helped lead to a life-changing decision, as Bradley's degree has been integral to his success as a social media aficionado.
He shares, "The program, which encompasses many facets of the advertising world, enables me to speak knowledgeably on a wide range of topics in different settings."
Another catalyst to Bradley's interest in advertising was his passion for music and the new artists and songs that he discovered through ads. That being said, it's no surprise that a lot of Bradley's experience has been at music publications. In the past, Bradley has been a social media marketing intern and a social media marketing editor and blogger for Billboard. This past January, he became a social media manager at Pitchfork.
A typical day at Pitchfork begins with a morning meeting with the editorial team to discuss the agenda for the day and to provide updates on big goals, milestones or upcoming events. Throughout the day, Bradley might be found crafting social media copy, creating decks to illustrate the success of different social campaigns like Pitchfork's radio show on Apple Music or planning on-site executions for big events like SXSW.
Prior to working at Pitchfork, Bradley was a social media manager at Vine. There, he was responsible for unifying the app's voice across all social platforms, building awareness, maintaining relationships with creators and driving users to consume content within the app. The experience of running social for a social media platform was a bit different than what he was used to, but he enjoyed seeing trends take off first hand.
He says, "Vine was a very exciting place to work because I was able to see trends like 'Duck Army' and 'What Are Those?' take off from nothing and explode across the Internet. Also, interacting with and listening to users' first-hand experiences across platforms allowed me to pass on input that helped make the app even better."
When he's not working, Bradley enjoys searching for decent Southern food in New York City (a daunting task), hanging out with friends, riding bikes, going to concerts and writing on his music blog. In five years, he sees himself possibly moving to the west coast. Ultimately, he wants to run a music supervision firm that helps place music in TV shows, ads and movies.
One piece of advice that Bradley offers is to "not be afraid to ask." Something his mom drilled into his head, this adage has helped bring him to where he is today.
He shares, "You'll never know 'what could have been' if you don't ask, and what's the worst that could happen; they don't respond or say no? Put yourself out there. Trust me, it's worth it."
To learn more about the Advertising program at Florida State, follow this link.