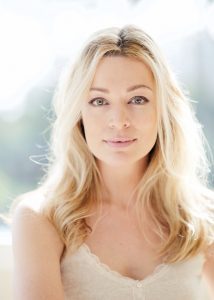 Actress, model and author Kara Hamilton (B.A. '97) is never afraid to dream big. After graduating with a degree in Media Performance, the alum started sending out resumes and tapes for anchoring jobs, booked national commercial and catalog modeling jobs in Baltimore and Washington, D.C. and auditioned for and landed a lead part at the Vagabond Players theatre house in Baltimore. She was on the cover of Health Magazine, held a radio travel correspondent position in Montreal and was featured in campaigns for major brands like Izod and Hanes. At one point, she had to choose between an entry-level position at The Jim Leher Hour, a potential 5 a.m. anchor spot for a Peoria, Ill. news channel and meeting with NYC talent agencies. She decided to go with her gut and explore the acting and fashion worlds in NYC.
She explains, "The rush of performing and exotic travel and the deep sense of autonomy I was cultivating captivated me."
Hamilton's degree from FSU has been integral to much of her success. Her classes provided her with a solid base for understanding the media, and her time working for Seminole Sports Magazine provided her with real-world writing, reporting and performing experience. She even got to interview football players at the Sugar Bowl in New Orleans.
She shares, "My experience at FSU opened my eyes to the world of writing, directing, producing and performing for various types of film, television and radio shows. This broad base gave me an awareness of the many options available."
One day, on a flight to NYC, Hamilton thought of a new option for utilizing her degree: writing a book. She had been looking for a book to aid in the care of her new baby, growing toddler and poodle and to help her children interact with and approach her dog. Unimpressed with the current books out there on this topic, she decided to write something herself. She wanted to create something memorable and entertaining and decided to provide parents with tips from the dog's perspective.
Entitled A New Leash on Life, the book provides parents with concrete tips to aid in the difficult transitional time of helping your children and dog adjust to each other. It includes a Q&A section from the United States Humane Society, has earned 5/5 stars from both the San Francisco Book Review and Kids' Book Buzz, and has received praise from NPR radio host and author Michael Krasny.
In her spare time, Hamilton enjoys spending time with her friends and family, playing the piano, watching films and reading. She cherishes connecting and revels in rediscovering the world through her children's eyes. Five years from now, she hopes to be continuing to engage in activities that spark her imagination and wants to have another children's book under her belt.
To purchase A New Leash on Life, follow this link. Additionally, to learn more about FSU's College of Communication & Information, click here.