The 2016 Women's Conference of Florida celebrated women representative of the vast diversity within our state, aiming to raise awareness of issues such as personal finance, leadership, and social change that are important to all women. This year's conference, intended to be the first of many Women's Conferences of Florida, featured panelist and CCI alumna and Board Member Michelle Winokur (B.S. '07, M.S. '07). Also in attendance were FSU CCI students Zaymeen Deen, Kelby Mahoney, and Alissa Ovalle, as well as FSU alumni Brandy Carlson, Yadira Holmes, Christy Crump, Kelsey Lehtoma Frouge, and Melissa Snively.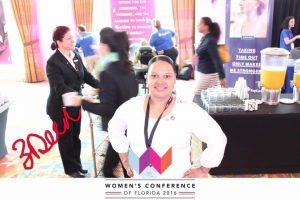 "I thought all of the speakers were wonderful, each panel was fantastic, and each connection made was powerful. I learned humility and hilarity in difficult times," says Kelby Mahoney.
With panels and attendees filled with inspiration and determination, there were numerous opportunities for growth. For Zaymeen Deen, two especially inspirational speakers stood out from the rest and commenced exceptional growth for listeners.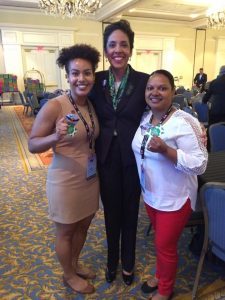 "I actually have two favorite speakers that I will not forget," describes Deen. "They both have their own success stories. Leslie Morgan Steiner shared her story of surviving domestic violence in her first marriage to showing her success through her New York Times best-selling memoir and TED-talk. The second speaker was Anna Maria Chavez, who is the CEO for Girl Scouts of America. She shared her story of challenges throughout her path that led her to be successful against all odds."
It was these valuable lessons from personal testimony and experience combined with unique networking opportunities among powerful women from a variety of professions that drew in such an ambitious crowd. Virtues of ambition were reinforced and instilled in every attendee, including Deen.
"What I learned from the conference was to never stop seeking. If you have an idea, keep searching for new ways to make it happen. You have to have a vision for what you are wanting to accomplish," she explained.
According to Mahoney, the conference initiated communicative growth, forcing her out of her comfort zone when networking and interacting with such a powerful and successful congregation of women.
"The speakers were powerful and offered valuable life lessons. The speaker lineup was incredible, and included many famed women," reflected Mahoney. "[But] it was quickly realized that these women were just human beings, and once the glory of fame wore off, being in a room with 1000 women was an enchanting experience. It is valuable to personal growth just as much as education or studying abroad."
According to the Women's Conference of Florida website, "This will not be a one time event, but rather a self-sustaining organization." In the years to come, the conference hopes to grow and continue to spark positive influence and empower women across Florida.
"I would most definitely recommend others to attend the conference next year simply because hearing some of those stories can actually be the way you visualize your thoughts," says Deen. "I could only hope that someone else gets blessed to hear what I heard from these ladies from motivational stories, continuing to build new intentions and fulfilling outreach in areas that are influential."