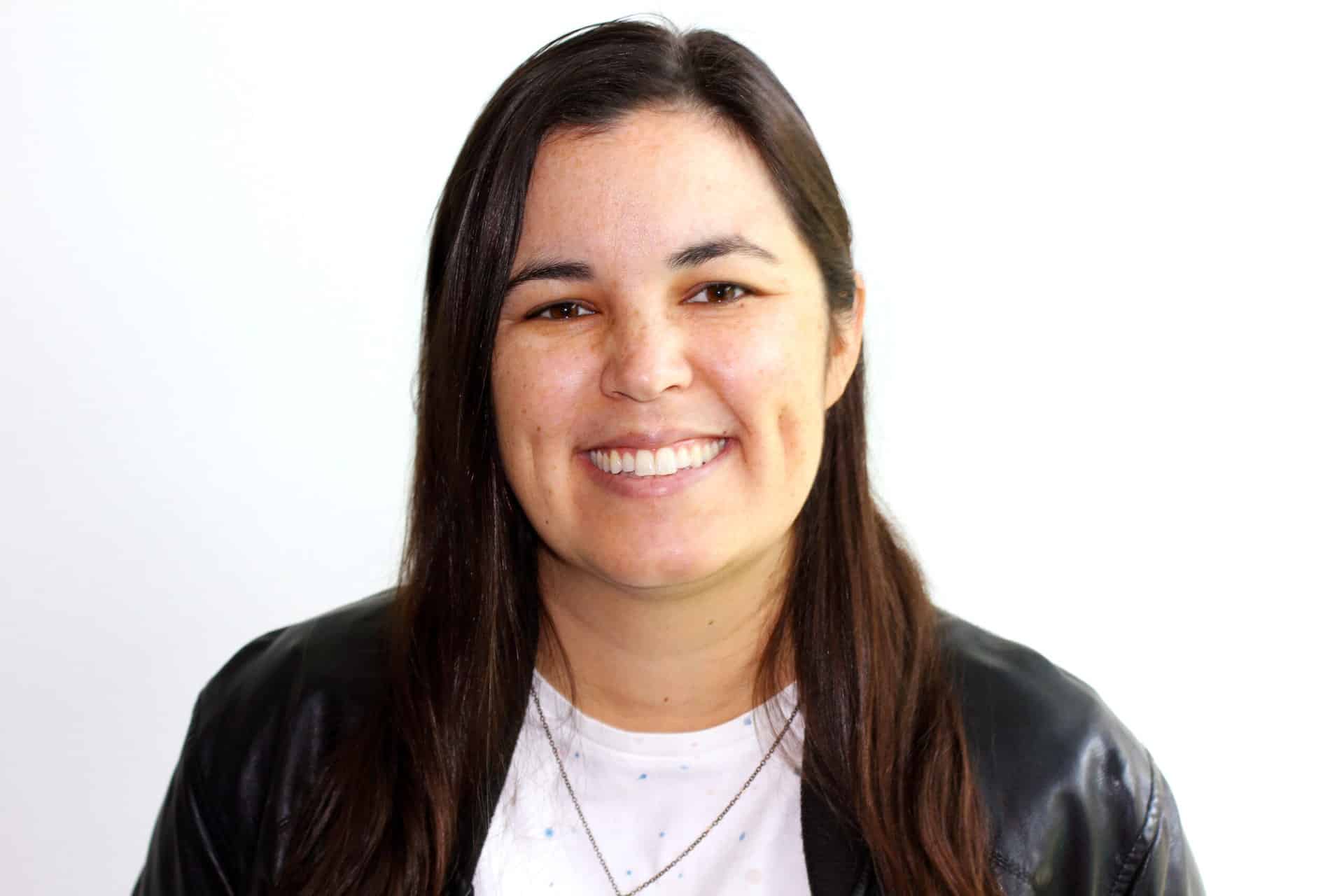 For Jessica Yong (DMP '09), an Emmy nomination just scratches the surface of her sports broadcasting career. Over the past 13 years, she has developed a massive reputation at ESPN for her work as an editor and effects artist. Yong recently sat down with CCI to talk about her experiences in the industry and how her program prepared her for it.
What does working for ESPN look like? What tasks/roles do you have?
Television is a team sport, and I cannot stress that enough. Working here is fast paced. Sometimes you're working on something that will air in 5 days, while other times you're working on content that airs in 5 minutes. While pressure comes with the pace, you are never on your own. You always have people working beside you to get things looking their best.
I work on a team within ESPN Creative Studio inside the Edit Department called Editfx. We handle custom graphic requests from production. Sometimes I am working on cartoon animations that run during our Sunday Night Baseball broadcasts, and other projects can be a photo special effects for an E60 feature, and everything in between.
What drew you to sports media and becoming an effects artist?
I have always loved sports. I grew up playing softball, and once I got to FSU, I played intermural sports (which ESPN also has!) and for the Club Softball team. It was an easy transition for me to go from playing to production. I got my first real taste of sports production in the Multi-Cam class where we worked with Seminole Productions. By my second game I was hooked!
I loved working live events so much that it was initially what I wanted to do for ESPN. The first opportunity I got with ESPN was an internship with the Edit Group. I had edited features for Seminole Sports Magazine for my classes, but it wasn't until I started editing in the fast-paced world of sports highlights that I really developed a passion for it. Once I was hired, I started branching out from highlights into our different shows and platforms to cut more creative and intricate pieces. I enjoyed building effects and graphics for those more involved edits, so much so that I now build custom graphics full time!
You've been with ESPN for most of your career. How did you first get connected with the company, and why have you chosen to stay?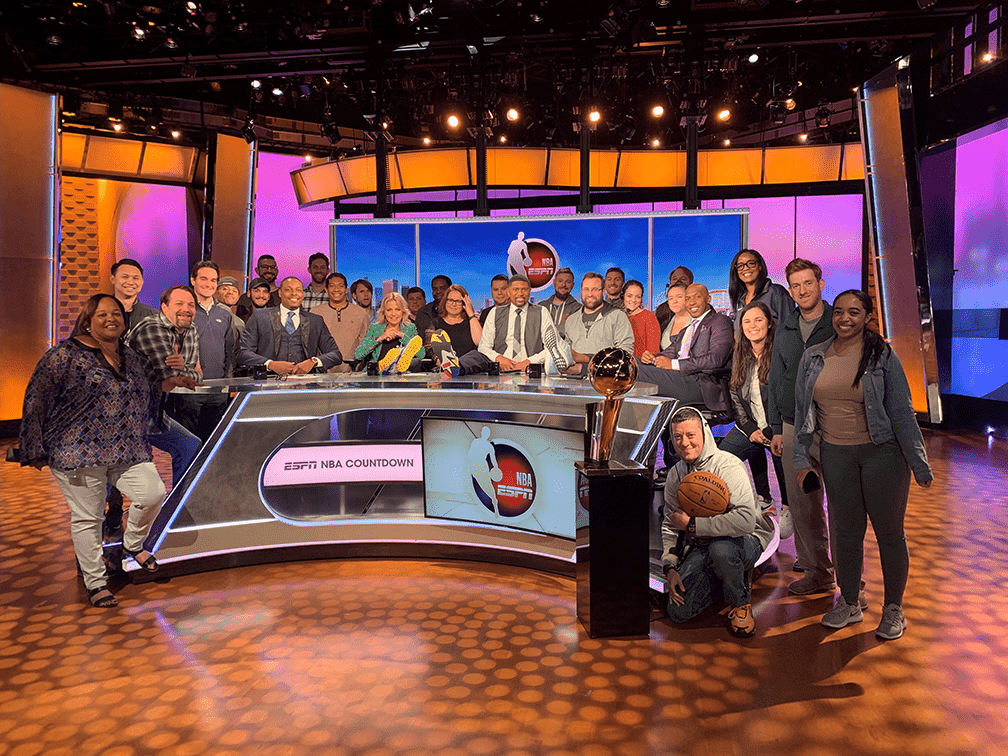 ESPN came to Florida State and met with students who were interested in interning with them. I was lucky enough to interview in person on campus and then after a couple rounds of phone interviews, they let me know that I had an intern spot.
I interned at ESPN's headquarters in Bristol, Connecticut in the Spring semester for 3 months. I was in Production Operations but was focused on Edit. ESPN internships are not spent getting people coffee or wrapping cables; they put you through the same process as a new full-time hire. By the time my internship was over I walked away with a whole reel of things I had cut for various ESPN shows. When I graduated the following Fall, the HR recruiter contacted me two weeks later and said they'd like me back. The rest is history!
If you want to work in Sports Broadcasting, it really is the "Worldwide Leader." For me, it has just never gotten boring. Sure, I've been here 13 years, but I haven't been doing the same thing the whole time. I started in highlights for SportsCenter, then worked on shows like College Gameday and NBA Countdown, and now I work on a little bit of everything.
On the technology side, there's always more to learn and get good at. I'm someone who likes new challenges and learning new skills; as long as I keep getting opportunities to grow, I will stay. Also, the entertainment industry can be hard to navigate. ESPN is owned by the Walt Disney Company and hires full-time production staff, and that also offers a lot of stability and benefits.
What is the biggest challenge you've faced in your career so far?
For me, the biggest challenge was standing out as one of 120+ Editors. It wasn't until I started creating a lot of digital artwork for my edit pieces that I really found my lane. I have always been someone who likes to doodle, but it took me a while to figure out how to incorporate it and for technology to allow it to be incorporated into content.
How did your experience in the DMP program help prepare you for the industry?
In so many ways! In class, I remember being shown a video about how everything I learned in school will be outdated in four years due to technological advancements. While I suppose software-wise it was kind of accurate, the concepts don't change.
I got to see so many different facets of production and got to write, produce, shoot, direct, technical direct, run replays, and edit. Understanding those other roles helped me become a better Editor quicker than some of my peers. It also made me more valuable to the company, because I could cross train and cover roles in the studio or control room if needed.
You were recently nominated for an Emmy. How did that experience impact you, both professionally and personally?
It was such a special piece to work on. I was on a team of 2 animators and we were given this beautiful spoken word script about the significance of the Juneteenth holiday. The producing team put so much trust and faith in us; it was amazing to see our hard work recognized in such a public way. The piece, entitled "Juneteenth," was a project that was initially planned to be shown only internally within the Disney Company, but it grew legs of its own and found its way on air and eventually to the Emmy nomination committee.
Personally, I just had a pinch me moment, when I was sitting at the award show in New York. I looked down at the program that lists all the nominees. In our category, every entry had at least 20 people listed as art directors and animators… and then you got to ours where it was literally just two names, myself and my fellow Animator Bryan Barkas. I couldn't believe what we created was holding its own against these giant teams of people.
Professionally, it came at a great time where a few departments were merging, and it got me a lot of internal exposure. Ultimately it probably played a part in cementing me into my current role of Sr. Effects Artist.
Tell us about yourself (hobbies, life updates, interests, etc.). Let us know anything we didn't cover!
My wedding made SportsCenter Top Plays! They surprised me with a shoutout and showed some of my wife and I's wedding photos which was awesome.
As a Floridian, I was not a big fan of winters at our headquarters in Connecticut, so I applied for a position at our LA office and have been here ever since.
My hobbies are watching Florida State football (obviously), hiking, surfing, and hanging out at the beach.
Are you a CCI alum? Fill out the Alumni Interview form for a chance to be featured on the CCI website.