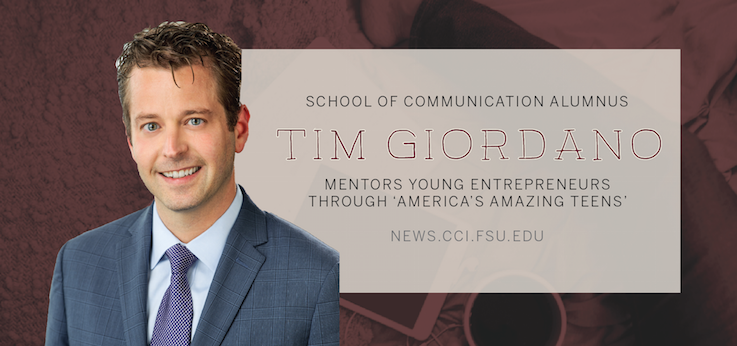 Tim Giordano (B.S. Communication '98) finds satisfaction in hard work done well, regardless of industry or sector. These days, he's carrying that out by sitting on the Board of Advisors at America's Amazing Teens.
Giordano explains, "I serve as a mentor to help the young people America's Amazing Teens [AAT] manages to develop their innovations in STEM and bring them to market."
At its core, AAT promotes innovation in science and technology. Using a competition to discover, promote and reward young entrepreneurs in the STEM field, the organization is described by Giordano as "American Idol meets Shark Tank." It also hosts an academy division that assists young entrepreneurs in commercializing, raising funds for and marketing their innovations.
For example, AAT works with a young man named Easton LaChappelle, who built an affordable, brain-powered, 3D-printed prosthetic arm at only 14 years old.
Giordano shares, "We help brilliant young people like Easton bring these game-changing, humanity-advancing ideas to life."
Giordano appreciates the network of talented and curious alumni that his degree from FSU has provided him. He especially appreciates the tough love that then-faculty member Professor Dave Brill provided him with as a student.
He recalls, "[Brill's] constant refrain was: you can do better. Then, it was a tough pill to swallow, but ultimately it was powerful stuff with long-lasting impact. What he was really saying was: I believe in you and actually care enough about my students to expect more out of them."
However, Giordano isn't all about tough love and nothing else. He recognizes the value in positive, thoughtful sentiments. Taking his entire career into consideration, the most meaningful lesson that he has learned is that we all can – and should – tell people, "I believe in you," followed by a thoughtful, "and here's why" discussion.
He discloses, "Certainly it has been meaningful in my work with young people, but I think we adults need to take time out to do it more for each other as well. A conversation like that is the ultimate motivator, and nothing truly great in life or business is accomplished without motivation."
In his spare time, Giordano enjoys reading, tending to his garden, off-roading in his Jeep and engaging in water sports. In five years, he hopes he will be continuing to do work that has the potential to improve lives, disrupt an industry or challenge conventional thinking for the better.
To learn more about the Communication programs available at Florida State, follow this link.