The College of Communication and Information is proud to have some of our distinguished alumni featured in this year's Seminole 100. Keep reading to learn more about CCI alumna Brooke Pautsch, owner of Lucky Goat Coffee.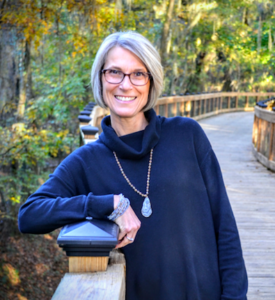 Lucky Goat Coffee was co-founded by Brooke and her husband, Ben ('91, BS Business Management), in 2010. Prior to the development of Lucky Goat, the couple owned and managed KBS, a wholesale coffee distribution company. Brooke worked behind the scenes in a variety of roles while raising their three children. After the creation of Lucky Goat, Brooke created their signature fundraising program and assisted with further outreach in the Tallahassee community. Today, Lucky Goat Coffee employs over 80 employees in the area, and has become a household name in the Leon County area. A former teacher, Brooke says that her passion today is sharing Lucky Goat with the educators of Leon County. 
"We have been blessed by Tallahassee because it is a huge supporter of local businesses.  From the beginning, it was easy to give brewed coffee away because there was so much enthusiasm and excitement on the part of the group requesting it!  Since Ben comes from a family of educators and I was a teacher, our favorite area of giving is to education.  We are currently a business partner with Sabal Palm Community Partnership School. I love going into schools to serve cold brew.  It is especially rewarding to talk to educators because they need to be encouraged and thanked for all they do!" Brooke told CCI, "It really doesn't take much to thank people- a cup of coffee or a cup of cold brew goes a long way.  Most of all, I have realized that coffee is an amazing vehicle that connects people and fosters relationships.  I have been blessed to hear countless stories from people enjoying our cafes.  In my opinion, goodness is in relationship building and a good cup of coffee just happens to be a bonus!" 
Brooke says that her time at FSU helped her build relationships and networks that she can still call on today. Her biggest piece of advice for students is, "embrace hardships and struggles.  It is during those times that your character is being refined and you are being prepared for future success.  I would tell them to embrace patience. We live in an immediate gratification world.  People think that we were an overnight success and that isn't true.  We spent ten years building the infrastructure of Lucky Goat before one café ever opened.  Lastly, I would tell them to be humble, especially if they are looking to own their own business.  You need to be willing to do anything to grow your business or even keep it afloat in hard times (including cleaning the toilets)!" 
To read more about Lucky Goat, visit https://luckygoatcoffee.com/pages/our-story.