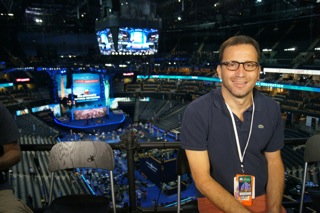 Within week of his graduation in 1991, Florida State University School of Communication alumnus Guillermo Santa Cruz hit the ground running as an intern at the Univision Network.  Over two decades later, Santa Cruz has amassed an impressive résumé in the Spanish-language broadcast industry.
Santa Cruz credits his educational experience at Florida State as what set the foundation for a very successful career.
"It helped in so many ways," Santa Cruz said.  "The School of Communication was wonderful because we had great access.  We could edit with really good equipment and get hands-on experience.  I was prepared.  I could walk into an edit suite and know what I was talking about. "
Guest speakers who shared real world experience and a strong emphasis on writing by professors also made an impression with Santa Cruz during his time at Florida State.
When Santa Cruz started at Univision in 1991, the network had just moved back to Miami from Southern California and was a much smaller operation than current day.  His internship turned into a full-time position within a month.
"I was very lucky," Santa Cruz said. "It was the perfect time to be in a place that needed a lot of help — there were a lot of opportunities afforded to people like me."
With a Presidential election looming, Santa Cruz capitalized on his minor in history and knowledge of politics.
"I always tell people that it's great if you want to study communications, but when you go out into the real world you don't report about communications," Santa Cruz said.  "You report about health or politics or the environment.  You have to be well rounded.  My minor helped me a lot."
Santa Cruz climbed the ranks to senior producer of network sports at Univision and then headed to Telemundo as an executive producer of network sports and the Olympics, and was eventually promoted to vice president.  Along the way, Santa Cruz has collected four Emmy nominations, including victories in 1995 and 2005,  and was the co-winner of the Edward R. Murrow Award for best newscast at Univision in 1996.
After a stint as an independent consultant for international corporations and television stations, Santa Cruz became general manager of Radio & TV Marti' for the International Broadcasting Bureau and U.S. Office of Cuba Broadcasting.  Now focused more on the business development side of the broadcast industry, Santa Cruz was recently hired as Vice President of Latin America & U.S. Hispanic at IMG.
"I was ready to take advantage of the opportunities given to me because FSU gave me a very good base," Santa Cruz said.
Are you considering a career in broadcasting or communications? To learn more about Undergraduate Programs at the School of Communication, visit comm.cci.fsu.edu.