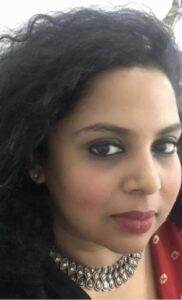 FSU School of Communication alumna Dr. Ashavaree Das ('13, Ph.D. Communication, Health, Gender, Culture) was a part of a team that organized the inaugural online Digital Literacy Leadership Forum in collaboration with Adobe and supported by Grapheast Elite Education Distribution Partner in MENA Region. The online event was held from June 1 to 2 and had the theme of "Empowering Education."
"At the Higher Colleges of Technology, I was entrusted with the task of hosting the Digital Literacy Leadership Forum," said Das, who serves as an Academic Program Chair at the Applied Media Division in the Higher Colleges of Technology in the United Arab Emirates (UAE). "A lot of planning went into the execution of the forum – it was an international event with thought leaders from all over the world, academics, and industry sharing their perspectives on the progression of digital and creative initiatives, the future of learning with student partnership, and the need for faculty leadership in driving change.
"I am happy to say that the event was a success – we had strong participation from over 20 countries in terms of our attendees as well as our faculty/student enablement sessions. We also hosted two successful international competitions."
Throughout the event, faculty and student participants shared their perspectives on digital and creative projects. They also had to opportunity to participate in a Photography and Digital Portfolio competition and have their work examined by a panel of judges for a chance to win a cash prize.
"I am proud to work for an institution which has been named as a winner of a Leading Change Award at the Blackboard Catalyst Awards, in recognition of its efforts to promote widespread adoption of innovative strategies aimed at boosting learning outcomes and student success. The Digital Literacy Leadership Forum was an attempt by the Applied Media Division to enable a conversation on the direction of creative development where academia may need to proceed, thus the theme – Empowering Education."
Dr. Das attributes her success to her time as a doctoral student in the School of Communication.
"My time as a doctoral student in the CCI division shaped me into who I am today," said Das. "While I became knowledgeable about research, processes, trends in my field – what cut the deal for me was the value system espoused by the faculty who mentored me. My major professor Dr. Gary Heald was pushing me to go beyond my comfort zone and that's where the real learning took place. For example, he would ensure I imbibe humane values, keep an open-door policy for students and peers, be humble, and learn to trust people. At the end of the day, superlative interpersonal skills make me build that connection with my students and peers and this is something my professors – Drs. Heald, McDowell, Arpan, and Mayo taught me."
"I see an exciting future for all of us," said Das. "We aim to host this forum regularly under various themes to continue the discussion on Digital Literacy. I am happy to be an agent of change and work under the support of dynamic and agile leadership. What I see is meaningful partnerships emerging from such endeavors wherein we may extend learning to every region in the world."
To learn more about the Digital Literacy Forum, click here.