CCI Leadership Board member Marilyn Young has received the Circle of Gold Award from the FSU Alumni Association.
The Circle of Gold Awards were created to honor alumni and friends of FSU who embody the core values of Tradition, Leadership,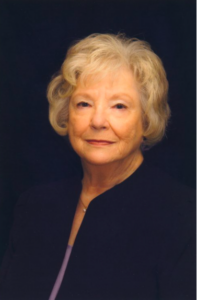 Family, Spirit, and Greatness. Recipients of the award will be honored at the Annual Alumni Awards on October 22nd, 2021.
Dr. Young's career at FSU spans over fifty years. After graduating cum laude from Florida State with her honors B.A. in English and Speech Communication, she went on to earn a Master's Degree and Ph.D. in Rhetoric and Public Address from the University of Pittsburgh. Dr. Young served as an Assistant Professor at California State University Los Angeles from 1969-1972, where she also served as the Director of Forensics and the debate coach. She returned to FSU in 1972 as a faculty member, debate coach, and Director of Forensics. During her tenure at Florida State, Dr. Young served in many leadership roles, including the Chair of the Department of Communication, President of the Faculty Senate, President of the Southern States Communication Association, and the Board of Directors for the Eurasian Communication Association of North America. She has received many distinctions for her work at the University, including the Teaching Incentive Program Award in 1995 and the Professorial Excellence Award in 1998. In 2001, she was named Minnick Professor of Communication, in honor of mentor, friend, and colleague Dr. Wayne Minnick. Some of her other distinctions include the Fred L. Standley Distinguished Service Professor Award, the Michael Osborne Teacher-Scholar Award, the Johnson-Padgett Distinguished Service Award, and the "Vires" Torch Award. Dr. Young has written a number of books and articles, and she has presented her research at numerous international conferences and symposia. In 1994, she founded RussTech Language Services, Inc. alongside her husband, Michael Launer. She remains active in retirement, and is currently working on a four-volume book series chronicling the rise and fall of democracy in Russia.

"Marilyn Young is a long-term supporter of Florida State University, as well as a leader in faculty governance, and research in political rhetoric," says Dr. Stephen McDowell, Interim Dean of the College of Communication & Information. "She is a champion of the debate program at FSU, as a coach during her teaching career, and in building a solid base of financial support for the students and the program.  We appreciate her immense contributions greatly."
Dr. Young was an active member of the FSU Debate Team during her undergraduate career and remains an avid supporter to this day. After returning to Florida State as a faculty member, she coached the team from 1972-1985. In 2014, Dr. Young and her husband generously established the Marilyn J. Young Endowment for Intercollegiate Debate as a way secure the benefits of debate for future generations of FSU students. Additionally, Dr. Young continues to support the program in several ways, including organizing reunions of former members of the debate team.
"I am honored to become part of the distinguished group of FSU Alumni and friends who make up the Circle of Gold." Said Dr. Young, "That such a group even exists speaks to the profound influence this university has on its students, faculty, and friends."
To read Dr. Young's full bio, click here.